The most awaited SSC CHSL 2018 exam is to be held in the month of March in 2018. The level of questions is of +2 level and is a bit easier than CGLE. This results in a high cutoff of generally 115-120 out of 200.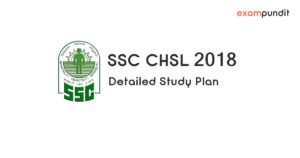 [toc]
Exam Pattern
---
The SSC CHSL 2018 question paper will consist of 100 questions carrying 2 marks each to be completed in 60 minutes. There will be 25 questions each from  the following sections:
1. General Intelligence
2. English Language
3. Quantitative Aptitude
4. General Awareness.
There is no sectional cutoff.
Now, let us see how to prepare for each section in the following points:
Topicwise Guide
---
General Intelligence
---
This section in SSC CHSL 2018  generally comprises of reasoning. As it is a +2 level exam, the questions will be easy with a few tricky ones.

Chapters like Analogy, figure cutting, odd one outs, coding, decoding, direction test, number puzzles, dice etc should be paid special attention.

Practice plenty of number puzzles and analogies to increase your speed in the exam.

If you find some question tricky, just skip it and proceed to next question.

Make sure you read all the questions once, so that easy questions are not left out by you.
English Language
---
The questions will be from Grammar: indirect and direct speech, active passive voice, errors, and vocabulary: antonyms, synonyms, idioms, and phrases.

All the questions will be on an easier side but demanding a clear concept of grammar.

Practice plenty of idioms and phrases especially from previous year papers.

Do not mug up any trick for English, make your concepts clear and solve English questions on a daily basis.

You can utilize your memory power for the vocabulary section by learning new words daily and at the same time do not miss the previous year's antonyms and synonyms.

The best way to get a grip on this section is brushing up your grammar knowledge by any high school English grammar available with you and then practicing the previous year papers chapterwise.
Quantitative Aptitude
---
This section comprises of Arithmetic, number system, geometry, trigonometry etc.

If you have any school mathematics book with you kindly go through the chapters and formulae once. Otherwise, any competitive aptitude book will also suffice.

Practice number series as much as you can, this will reduce your time to analyze the series pattern in the examination.

Speeden up your calculations for SSC CHSL 2018.

Be familiar with solving questions through the elimination of options wherever applicable.

Do not opt for tricks and tricks if they confuse you. All that matters is your accuracy and speed, so if you are able to solve a numerical quickly and accurately by the conventional method, do not forcibly utilize your newly learned tricks. Use tricks and shortcuts if and only if you have strongly practiced them.

Do not miss out solving previous year questions.
General Awareness
---
This is the most feared section in SSC CHSL 2018 because of its vast syllabus.

It will comprise of general science, social studies, computers, technology, current affairs, etc.

The best way to screen the syllabus of GA in SSC CHSL 2018 is to filter out the chapters from NCERT books and then read them in details by following any General knowledge book available at your hand.

Dams, national parks, rivers, lakes, dances of India etc should be revised on a daily basis so that you don't need to mug them and they get imprinted in your mind.

Knowledge of important news from last one year to six months is essential for the exam. Few questions come from current affairs, so you need not panic much about it. Just overview the important news before the exam.

This is section will fetch you maximum marks in minimum time, so having a stronghold of GA will help you in final selection by boosting your score.
Mock Tests for SSC CHSL 2018
Free Mock Tests
50% Off in Oliveboard's Mock Test Package – Code – EPCHSL – Click here to Get
All essential articles, quizzes live sessions and available mocks will be updated to you gradually. Meanwhile, pin down your strengths and weakness and figure out how to overcome your weak subjects. Any help or query kindly let us know at the daily Ask the mentor post, because EP is all about you .
Regards
Sonalin Dixit
Average rating / 5. Vote count:
We are sorry that this post was not useful for you!
Let us improve this post!
Thanks for your feedback!