India along with 20 other countries on 23 October 2014 signed an agreement to become the founding member of the China-backed Asian Infrastructure Investment Bank (AIIB).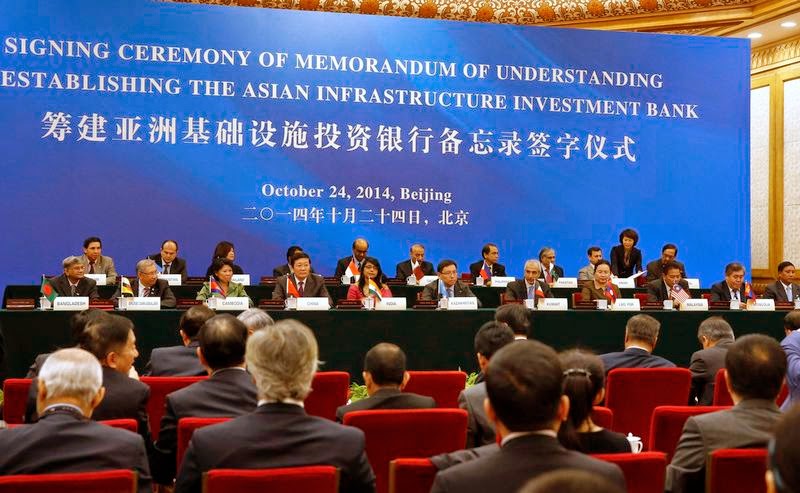 The AIIB bank aims to aid the infrastructure development in the Asian region and reduce the dependence on Western-dominated World Bank and IMF.
The agreement was signed by the Usha Titus, Joint Secretary, Economic Affairs division of the Union Ministry of Finance on behalf of India at a special ceremony in Beijing at the Great Hall of the People.
On the Chinese counterpart, the agreement was signed by the China's Vice Finance Minister Jin Liqun. He was also the former Vice-President of the Asian Development Bank and he has been appointed as the Secretary General of AIIB.
The AIIB is in addition to the BRICS (Brazil, Russia, India, China and South Africa) Development Bank formed in 2014.
The bank will be based in Shanghai. It is set to commence its operations with an Indian as its President.
About Asian Infrastructure Investment Bank
• The Bank will be headquartered in Beijing.
• The bank is expected to be operational by 2015.
• The authorised capital of AIIB is 100 billion US Dollar and the initial subscribed capital is expected to be around 50 billion US Dollar. The paid-in ratio will be 20 per cent.
• Voting rights are to be decided after consultations among the members over fixing the bench marks which were expected to be combination of GDP and Purchasing Power Parity (PPP).
• Based on this formula, India will be second largest share holder of the bank after China.
• The bank will help to bridge the infrastructure deficit by playing a complementary role along with other financial institutions like ADP and IMF and work for good governance.
• Besides India and China, other AIIB members are Vietnam, Uzbekistan, Thailand, Sri Lanka, Singapore, Qatar, Oman, the Philippines, Pakistan, Nepal, Bangladesh, Brunei, Cambodia, Kazakhstan, Kuwait, Lao PDR, Malaysia, Mongolia and Myanmar.
We are sorry that this post was not useful for you!
Let us improve this post!
Tell us how we can improve this post?