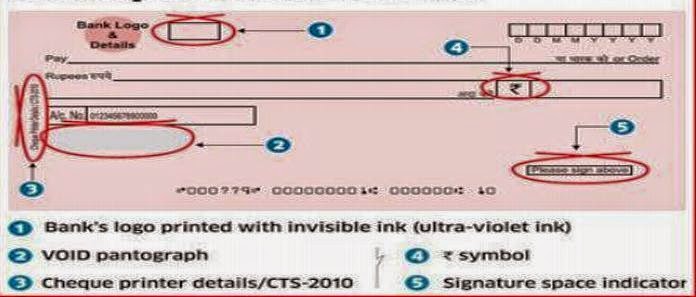 Hello and welcome to ExamPundit. Today we have prepared a Short Note on CTS-2010 STANDARD. It is very important for Banking PO and Clerical Exams and Interviews.


Definition
of Cheque Truncation:
Truncation is the process in which an issued cheque is not
moved physically from the drawer bank branch to the drawee bank branch. Instead
an electronic image of the cheque is sent to the drawee branch through the
clearing house along with relevant information like data on the MICR band, date
of presentation, presenting bank, etc.
Cheque truncation thus eliminates the requirement of physically moving
documents across bank branches except unavoidable circumstances. This
effectively eliminates the associated cost of movement of the physical cheques,
reduces the time required for their collection and brings elegance to the
entire activity of cheque processing.
RBI decided to prescribe certain benchmarks towards
achieving standardisation of cheques known as "CTS-2010 standard",
specifications.
Role of NPCI:
RBI has mandated NPCI to operationalise CTS. NPCI will act
as a Cheque Processing Centre (CPC) and will process electronic cheques and
images received from member banks
Mandatory features applicable:
Paper: Paper
should have protection against alterations by having chemical sensitivity to
acids, alkalis, bleaches and solvents giving a visible result after a
fraudulent attack. CTS-2010 Standard paper should not glow under Ultra-Violet
(UV) light i.e., it should be UV dull.
Watermark: All
cheques shall carry a standardized watermark, with the words "CTS-INDIA". It
should be oval in shape and diameter could be 2.6 to 3.0 cms. Each cheque must
hold atleast one full watermark.
VOID pantograph:
Pantograph with hidden / embedded "COPY" or "VOID" feature shall be included in
the cheques. This feature should be clearly visible in photocopies and scanned
colour images as a deterrent against colour photocopy or scanned colour images
of a cheque.
Bank's logo:
Member Bank's logo shall be printed in ultraviolet (UV) ink. The logo will be
captured by / visible in UV-enabled scanners / lamps. It will establish
genuineness of a cheque.
Mandating colours and
background: Light / Pastel colours so that Print / Dynamic Contrast Ratio
(PCR / DCR) is more than 60% for ensuring better quality and content of images.
Prohibiting alterations
/ corrections on cheques: No changes / corrections should be carried out on
the CTS cheques (other than for date validation purposes, if required). For any
change in the payee's name, courtesy amount or legal amount etc., fresh cheque
forms should be used by customers. This requirement is for cheques issued under
CTS only and no other cheques.
Printing of account field:
Cheques used in current accounts and corporate customers, should be issued with
the account number field pre-printed. Courtesy amount means amount in figures
and legal amount means in words.
Importance
of CTS:
Speeds up the process of collection of cheques resulting in
better service to customers
Reduces the scope for clearing-related frauds or loss of
instruments in transit
Lowers the cost of collection of cheques
Removes reconciliation-related and logistics-related
problems
The homogeneity in security features also act as a deterrent
against cheque frauds.
Clearing Methods:
Speed Clearing is an arrangement to clear intercity non-at
par items.
Grid Clearing is an arrangement that allows banks to present/receive
cheques from/to multiple cities in a Single Clearing House through a service
branch at one city.
What
benefit does CTS provide to Bank's Customers?
It reduces the time taken to clear the cheques as well gives
banks to offer better customer services and increases operational efficiency by
decreasing on overheads involved in the physical cheque clearing process which
was used earlier.
It also provides better reconciliation and fraud prevention.
Source: RBI, IBA, Economic Times, Moneycontrol, The Hindu


Spread the word, share it with friends.


Regards
Team ExamPundit
We are sorry that this post was not useful for you!
Let us improve this post!
Tell us how we can improve this post?
EP Recommends: Oliveboard Mock Tests