Hello and welcome to ExamPundit. In the past 3-4 years we have seen a rapid increment in Social Networking platforms. From Facebook to Twitter, people have been active all over the internet.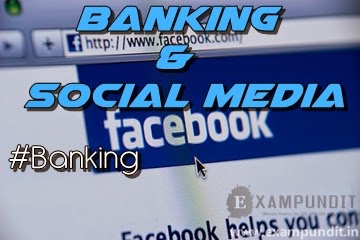 As per the recent reports, India will be having more than 300mn Internet Subscribers by 2015. This indicates that the internet literacy and tech savvy is on the rise in India. From the young generation to the elder people, everybody is becoming an active part of the whole social networking sites.


There was a time when Banking was a real deal and it took days to for the young to learn the proper ways of banking. Nowadays with the advanced technology and improvement of communication Banking is becoming easy. First with the rapid growth of ATMs across the nation then came the PPI's and now the Banking services via Social Networking


Recently, Kotak Mahindra launched "KayPay", which will help users to use banking services through Facebook. On the other hand we have witnessed the launch of ICICI Bank's twitter banking services named as "icicibankpay". And not to mention but ICICI bank's first virtual bank "Pockets".


Through the channel of Social Networks the Retail Banking in India is definitely changing and growing.



What is "KayPay" and What is "icicibankpay"?


KayPay is the World's First Any Bank to Any Bank funds transfer platform via Facebook
powered by Kotak Mahindra Bank. It lets any user to transfer money to any of the friend in his/her facebook friendlist.


Any Bank account holder who's bank is enabled with immediate payment system (IMPS) platform of the National Payments Corporation of India (NPCI) can easily transfer funds to other people ON HIS FRIENDLIST.


On the other hand, ICICI Bank's "icicibankpay" lets customers to transfer money using Twitter. You just have to follow ICICI Bank on twitter and send them a direct message using @icicibank and recipients user name and the amount. The recipient does not need to be an ICICI bank account holder.
France's BPCE Banking Group was the first to start banking through Twitter.



Pros and Cons of Banking via Social Networks
The Pros of Banking via Social Networks are plenty in numbers. The internet cost is cheap which lets customer use the banking services more easily. Please not that we are not giving any pdf of this short note in exampundit as it will be attached with magazine. On the other hand, the increasing numbers of Social Network Users and Tech Savvy generation needs more online services which are user friendly in nature.
The cons are too tough to find, however, the only concern is with the customer's social networking profile's security. Those whoever will be using the banking services via social networking websites must keep their profile security updated.




The future will be more hassle-free banking services. The future will hold much more advanced methods of Banking.




If you have like our article, you can comment below or just share it with your friends/group.
Do you know we give regular quiz on every topic?
Our banking awareness quizzes are not bad!


Click here to view Banking Awareness Quizzes >>

Regards
Team ExamPundit
Books For 2015 Banking/Insurance Exams

We are sorry that this post was not useful for you!
Let us improve this post!
Tell us how we can improve this post?