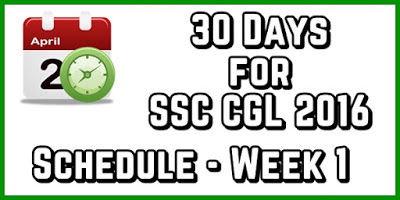 Hello and welcome to ExamPundit. So here is the schedule of the 1st week of the 30 days of SSC CGL Preparation.
Schedule for 1st to 7th April, 2016




For GK




1.04.2016

(FRIDAY)

BIOLOGY

Classification of living organisms, The cell,
Genetics, Human diseases(causes& symptoms), minerals and vitamins (chemical
name,source,deficiencies)

2.04.2016

(SATURDAY)

PHYSICS

Physical quantities (types and units),
Motion(types, distance and displacement),

Force and gravitation, Work,energy &
power

3.04.2016

(SUNDAY)

GEOGRAPHY

Solar system, Physical divisions of India,
Indian Rivers and mountains

4.04.2016

(MONDAY)

CHEMISTRY

1.
Matter-atoms, molecules, elements, compounds,
mixtures.

2.
Some popular salts (chemical
names,properties,uses)

5.04.2016

(TUESDAY)

HISTORY

Modern history (Pre-independence part)-
everything directly or indirectly related to MAHATMA GANDHI's freedom
struggle(The events,arrests,quotes,books etc )

6.04.2016

(WEDNESDAY)

ECONOMICS(part 1)

Not much subtopics . So just brush up all your economy notes and pdfs J

For example- some basic definitions, graphs of different market
conditions.

7.04.2016

(THURSDAY)

POLITY

Indian constitution( amendments, articles, schedules, drafting of
constitution-important people involved)
For others:
1.04.2016
(FRIDAY) – English & Maths
2.04.2016
(SATURDAY) – Reasoning & Maths
3.04.2016 (SUNDAY) – English & Reasoning
4.04.2016
(MONDAY) – Maths
5.04.2016
(TUESDAY) – English
6.04.2016
(WEDNESDAY) – Reasoning
7.04.2016
(THURSDAY) – Discussion
The schedule is fixed by our SSC CGL Mentor S Dixit.
She will be conducting and organising the GK series!
Regards
Team ExamPundit
Sponsored

(adsbygoogle = window.adsbygoogle || []).push({});