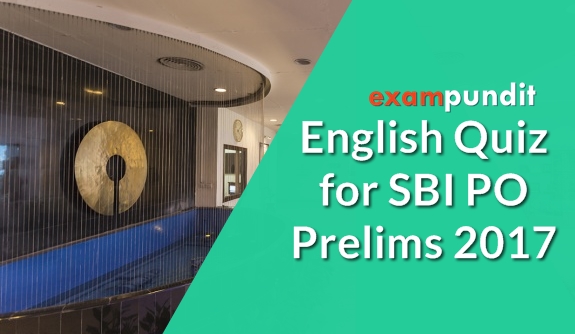 Hello and welcome to exampundit. Here is a set of English Quiz for SBI PO Prelims on Cloze Test .
Directions (Q. 1-10): In the following passage, some of the words
have been left out, each of which is indicated by a number. Find the suitable
word from the options given against each number and fill up the blanks with appropriate
words to make the paragraph meaningful.
I have three I's for you. They
are Inspiration, Integrity and Insight. Leaders essentially _____(1) with
something larger than what others are willing to grapple with, which is what
makes them leaders. They need inspiration to be able to do that, _____(2) they
will get frustrated. The second component is integrity, which is a key element
in _____(3) trust, without which you are never _____(4) going to be a leader.
Integrity is about _____(5) between what you say, do and think. It is in your
actions, in the way you are, the way you carry yourself. It's not _____(6) you
do only when others are watching. I ask people a simple question: if there is
no policeman at a traffic signal, will you stop? Only 10% say they will stop,
90% will not. Life offers leader a perch higher than other people have. If
leaders cannot see any _____(7) than others, they become objects of ridicule.
They must have _____(8) into situations, into problems and possible solutions.
There is a drought of leadership at all levels of life in our country. But
leaders don't fall from the _____(9). Some people become leaders themselves or
sometimes situations _____(10) them to become leaders.
1. 1) gratified 2) shielded 3) defended 4) grapple 5)
contend
2. 1) moreover 2) else 3) then 4) when 5) nonetheless
3. 1) raising 2) creating 3) forming 4) making 5) building
4. 1) always 2) been 3) ever 4) often 5) there
5. 1) coherence 2) adherence 3) sticking 4) deciding 5)
relation
Advertisement

(adsbygoogle = window.adsbygoogle || []).push({});
6. 1) everything 2) when 3) important 4) something 5) anything
7. 1) one 2) better 3) more 4) thing 5) clearly
8. 1) insight 2) depth 3) control 4) belief 5) knowledge
9. 1) above 2) god 3) sky 4) universe 5) haven
10. 1) make 2) instigate 3) prepare 4) develop 5) compel
Answers:
1. 4
2. 2
3. 5
4. 3
5. 1
6. 4
7. 2
8. 1
9. 3
10. 5
Sponsored

(adsbygoogle = window.adsbygoogle || []).push({});
Regards
Team ExamPundit