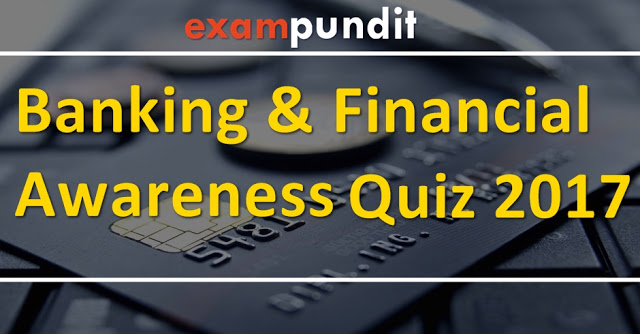 Hello and welcome to exampundit. Here is the fourth set of Banking and Financial Awareness Quiz for the Bank Exams in 2017. This is important for the upcoming SBI PO and NIACL Assistant Mains 2017.
1. Which one of the
following is introduced by banks to increase financial inclusion?
1) Stimulus package
2) Internet banking
3) Business correspondent
4) Corporate banking
5) None of the above
2. Which one of the
following is a type of banking application which authorises a bank to block a
specific sum of money in an individual's
bank account to be invested in an Initial Public Offer (IPO)?
1) RTGS
2) ASBA
3) Prefunded cheques
4) SCSBs
5) None of the above
3. The RBI has asked
banks to spell out their policy, procedures and size of the business on which
of the following aspects of banking ?
1) On-shore banking
2) Off-shore banking
3) Investments in secondary market
4) Wealth Management
5) None of the above
4. The main
objective(s) of National Housing Bank is/are
1) to promote and develop specialised housing finance
institutions for mobilisation of resources and extending finance for housing
activities
2) to extend refinance facilities to housing instituitions
and to scheduled banks
3) to provide guarantee and underwriting facilities to
housing finance institutions
4) All of the above
5) None of the above
5. Under what
circumstances, can the bank close a Partnership account?
1) Death of partner
2) Retirement of a partner
3) Insolvency of a partner
4) All of the above
5) None of the above
6. Partners are
mutual agents. It applies to sleeping or secret partners also. The rights of
other partners
1) can be restricted and entrusted to one partner
2) cannot be restricted and not be entrusted to one partner
3) can be enjoyed jointly
4) can be enjoyed severally
5) None of the above
7. Which of the
following constitute the code of conduct for merchant bankers as stipulated by
SEBI?
1) Maintenance of high degree of standards of integrity and
fairness in dealings
2) Providing true and adequate information to investors and
abide by the provisions of various acts, rules and regulations etc
3) Ethical conduct of business and provision of information
to customers in respect of code
4) All of the above
5) None of the above
8. When banks make
advances to limited companies against their assets, the required forms are to
be presented to the Register companies
within ________ from the date of execution.
1) 21 days
2) 30 days
3) 1 month
4) 2 months
5) None of the above
9. Which of the
following agencies/organisations has decided to make major changes for ULIPs?
1) IRDA
2) RBI
3) FRBI
4) AMFI
5) None of the above
10. Power of attorney
is a stamped document and generally executed in the presence of
1) a Notary Public
2) a Magistrate of a Court
3) an Authorised Government official
4) All of the above
5) None of the above
Answers & Solutions – Tap to show
3) Business correspondent
2) ASBA
4) Wealth Management
4) All of the above
4) All of the above
1) can be restricted and entrusted to one partner
4) All of the above
2) 30 days
1) IRDA
4) All of the above
Sponsored
googletag.cmd.push(function() { googletag.display('div-gpt-ad-1487064173474-0'); });
Regards
Team ExamPundit