RBI Assistant Mains 2017 is scheduled on 20th of December 2017. With less than a week for the examination, we are positive that you might have completed revision of the syllabus at least once by now. Here are few last-minute tips for these remaining days. These tips are brought to you by Oliveboard, an exam preparation platform for banking and government jobs.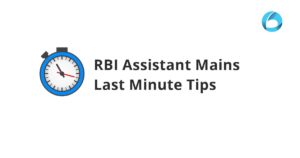 5 Important Tips That You Mustn't Miss
Revision Plan

: By now you might already have a strong understanding of basics, time to get some revision done. Make sure that you revise all topics studied for the exam. Create a revision plan for these last few days to clarify concepts once again prior to the exam.

Practice Mock Tests:

 Attempt as many 

mock tests

 you can in these last few days. This way, you will be able to improve your speed and accuracy. Also, you will get used to the exam pattern.

Focus on weak areas:

Spend some extra hours on the weak areas and attempt more questions from those topics to gain confidence.

Don't pick new topics:

 Do not try to learn any new topics in the last few days as you will end up wasting valuable time that you could have invested in revising or practicing important topics.

Stay away from Exam Stress:

 Try to keep yourself away from exam stress. You will be able to perform well and stand out in the exam only with a calm head. Chat with friends and family to stay away from stress. Make sure that you eat and sleep well before the exam.
RBI Assistant Mains 2017: 3 Most Important Last-Minute Exam Tips
Attempt questions from topics that you are more comfortable with. This will build your confidence and help you attempt more questions faster.

No blind guesswork. The number of questions you need to attempt cannot be pre-determined as it is a function of the level of difficulty. Just keep a fine balance accuracy and speed.

Do not get stuck on one question and waste your time. You can always come back to it in case you have time left.
Hope this helps!
Make the most out of these last few days. Practice as many tests you can. Try out Oliveboard Mocks created by experts for practice and mock analysis.
Average rating / 5. Vote count:
No votes so far! Be the first to rate this post.
We are sorry that this post was not useful for you!
Let us improve this post!
Thanks for your feedback!
EP Recommends: Oliveboard Mock Tests

EP Recommends: Practicemock Free Mock Tests