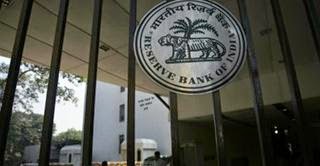 Hello and welcome to ExamPundit. RBI today released the first Bi-monthly monetary policy of FY 2015-16.

Following are the highlights of RBI's first bi-monthly
monetary policy statement, 2015-16:
Short-term lending
rate (repo) unchanged at 7.5%
Cash Reserve Ratio unchanged at 4%
Retains Statutory
Liquidity Ratio at 21.5%
Estimates GDP growth
at 7.8% in FY'16, up from 7.5% in FY'15
Forecasts CPI
inflation at 5.8% by March 2016
CPI inflation to dip
to 4% in August 2015
Hailstorms in March
affected 17% of the rabi crop sown area
Future rate cuts will
depend on interest rate reduction by banks
India better prepared
to deal with volatility post US Federal Reserve rate action
State cooperative
banks to be allowed to set up offsite/ mobile ATMs without prior approval from
RBI
RBI to formulate
scheme for market making by primary dealers in semi—liquid and illiquid G—Secs
Second bi-monthly
policy statement on June 2, 2015.
Regards
Team ExamPundit
Books For 2015 Banking/Insurance Exams