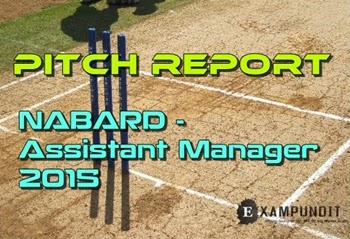 Hello and welcome to ExamPundit. So NABARD Assistant Manager 2015 Preliminary examination is on March 1st, 2015. First of all, The Warm Up Match for NABARD Assistant Manager Prelims will be given soon so keep visiting. Now what to study for NABARD Assistant Manager Prelims Exam?


As per the notification of NABARD Assistant Manager Recruitment the Prelims will have 5 sections.




Examination Format


The total marks of the prelims exam will be 200 marks of MCQs. The time limit will be 130 minutes
Reasoning – 50 Marks
Quantitative Aptitude – 50 Marks
English Language – 30 Marks
Computer Knowledge – 30 Marks
General Awareness – 40 Marks
What to study for NABARD Assistant Manage Prelims 2015?
Reasoning: For reasoning you need to focus on tricky and tough questions as it is expected to be bit on the tougher side. Try to practice more Statement and Conclusion quizzes as they are reported to be the most tough among majority of the aspirants. Also Input-Output questions are very important for this examination. Seating arrangements is expected to be a bit tough so practice hard. We have given different types of Seating Arrangement Quizzes which you can check out. Try to score as much as possible from Reasoning.


Quantitative Aptitude: To ace quantitative aptitude you must practice and practice a lot. The more the merrier. Time management is the key to success. You must practice moderate level of simplifications, probabilities and some tougher version of percentage, interest and average.


Expect Data Interpretation to be moderate and calculative. Do the Table and Pie-Chart DIs from our website.


Check out the Quantitative Aptitude Quizzes from here.




English Language: English is expected to be easy to moderate level. Comprehensions, Error Corrections, Grammar Fill in the Blanks, Cloze Test and Sentence Rearrangements are expected but not all.You can check out our English Quizzes. The basic grip in Grammar will help you to ace.


Computer Awareness: The questions will be similar to what we have seen in IBPS PO and IBPS Clericals. So practice quizzes from exampundit of Computer Knowledge and also the short notes and PDF we have provided.
General Awareness: The general awareness section will consist Current Affairs from Finance, Banking, National, International Events which includes Politics, Sports, Awards and Appointments. Also some GK questions will be there. We have already elaborated how to prepare General Awareness for all Banking Exams in 2015.







Study Materials for NABARD Assistant Manager Prelims Exam 2015
For General Awareness:


Download December Monthly PDF >


Download January Monthly PDF >


View Quizzes on Current Affairs >

For Computer Awareness:


Download Computer Knowledge PDF >


Download Computer Terminology PDF >
All the GA Questions asked in IBPS Clerk >


All the GA Questions asked in Insurance Exams >

We will be providing a Free Mock Test of NABARD Assistant Manager Prelims 2015 on Monday, 23 Feb, 2015.
If you have anything to ask, please comment below!
Regards
Team ExamPundit
Books For 2015 Banking/Insurance Exams

We are sorry that this post was not useful for you!
Let us improve this post!
Tell us how we can improve this post?