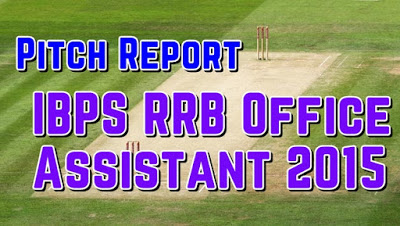 Hello and welcome to ExamPundit. So, here is the official Pitch Report of IBPS RRB Office
Assistant IV. For the fresh faces, Pitch Report is basically an Exam Preview or
Heads Up. What to do? What to study? How difficult it can be? These are
elaborated.
So lets get started.
Exam
Pattern:
Type
of Test

Questions

Marks

Reasoning

40

50

Numerical Ability

40

50

General Awareness

40

40

Computer Knowledge

40

20

Hindi/English Language

40

40
Note: The
candidates shall be required to qualify in each test as per cut-off marks
determined on the basis of performance in each test and also on total weighted
score. THERE WILL BE PENALTY FOR WRONG ANSWER MARKED BY YOU IN THE OBJECTIVE
TESTS.
Reasoning:
The reasoning test will have 40 questions carrying 1.25 marks each. So, expect
Assistant Level but moderate. Don't expect very easy and lose your motivation.
Make sure you are prepared for some confusing questions. You need to focus on
Seating Arrangements and Syllogisms. Though they can be easy but many times
aspirants find them confusing. So its better to practice them properly. On the
other hand, direction test, blood relation test and inequalities problems. Keep
it in moderate standard, do it fast.
Numerical
Ability: Numerical Ability is expected to moderate to tough. By
tough we mean very much calculative. And you should properly manage it. Time
management will play a crucial role in Numerical Ability. Expect Number Series,
Simplifications which might be very difficult or tough. So practice a good
number of Simplifications. On the other hand, make sure all the chapters of
Arithmetic is covered and practiced properly.
General
Awareness: General Awareness is having a lot of Stock GK. So prepare
our Stock GK EQs as we have seen questions appearing back to back 2 days in a
row in IBPS RRB OS-I. So make sure you go through them. The general awareness
magazine will be provided. For students appearing on 13th September,
2015. Make sure you read CA till 3rd September, 2015. Study simple
scheme based questions and basic to moderate banking awareness questions.
Computer
Knowledge: Since Computer Knowledge questions carrying only .50
marks, you should be practicing basic questions and acronyms. Acronyms are very
important when it comes to Computer.
Language: For Language test, expect easy to
moderate questions with a lot grammatical skills and a little vocabulary.
Finally, attempting a huge number of marks will not seal
your deal. You need to make sure you have attempted correctly.
All the best, May The
Force Be With You.
Regards
Team ExamPundit
Sponsored

(adsbygoogle = window.adsbygoogle || []).push({});
Books For 2015 Banking/Insurance Exams