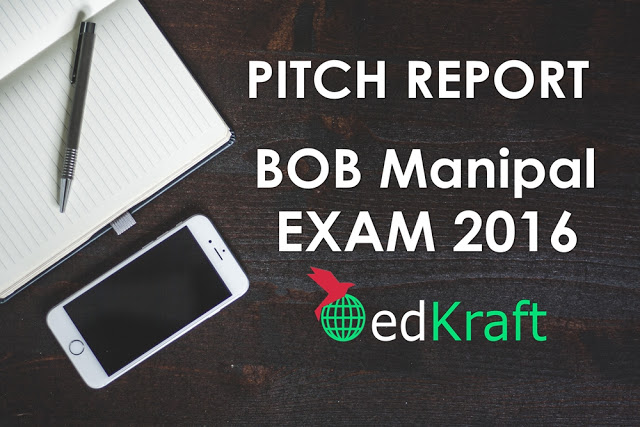 Hello and welcome to exampundit . Its late
night, but its not too late to give you the "Pitch Report" of Bank of Baroda
Manipal Exam 2016.
Those who
don't know, Pitch Report is our version of Exam Preview. The title is taken
from cricket where commentators give a review of the pitch.
So, first
things first. Lets look at the numbers and questions in BOB Manipal exam.
Objective Test:
Subject

Marks

No. of Q.

Reasoning

50

50

English
Language

50

50

General
Awareness (with special reference to Banking Industry)

50

50

Quantitative
Aptitude

50

50
Descriptive Test:
English
Language – 2 questions carrying total 50 marks.
The timings
are 120 minutes and 30 minutes for
Objective and Descriptive Tests respectively.
Now lets
move on to the preview.
Objective Test:
1. Reasoning: You all are used to with RBI
Grade B, SBI PO and IBPS PO Mains Reasoning. But here, you have to slow it down
a little. You don't have to do the hardest ones for this exam. Moderate to Old
IBPS PO level should be sufficient for BOB Manipal.
Chapters you need to give special
attention to:
Seating
Arrangements
Puzzles
Direction
Tests
Blood
Relation Tests
Coding &
Decoding
2. Quantitative Aptitude: Similar to
reasoning, quantitative aptitude is not expected to be of SBI PO or RBI Grade B
level at all.
Basic to
moderate level of PO problems are sufficient for this exam.
Chapters you need to give special
attention to:
Moderate
level of Data Interpretations
Profit &
Loss
Time &
Work
Average
Number
series
Approximations
Interest
3. English Language: English can be
scoring if you attempt comprehension and cloze test. English is expected to be
basic to moderate for this exam. So make sure you have cleared your basics
before you go.
Chapters you need to give special
attention to:
Comprehension
Error
Correction
Double
Fillers
Cloze Tests
4. General Awareness: General Awareness
is expected to have plenty of current affairs and banking awareness with low
amount of stock GK. Important financial current affairs from July to September
15th Is important. On the other hand study Banking Awareness as much
as possible.
Chapters you need to give special
attention to:
Current
Affairs – June 15 to September 15, 2016
Banking
Awareness – Bank Functions, HQs, CMDs, Basic RBI related questions
Stock GK –
Currency, Capitals and basic questions
Descriptive Test:
Chapters you need to give special
attention to:
Essay
Letters
Comprehension
The exam is
expected to be easier than RBI Grade B. You should follow the pattern of UBI PO
and make sure you have prepared according to the level of previous PO exams in
2015.
edKraft will
provide Mock Test for BOB Manipal. So stay tuned.
All the
best.
May the
force be with you!
Regards
Team ExamPundit