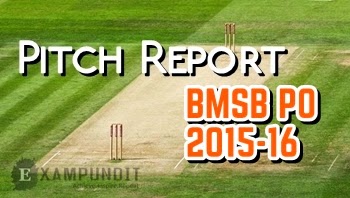 Hello and welcome to ExamPundit. We did not give the notification of BMSB but we are giving the Pitch Report on demand!


So lets get started.





Examination Format
Subject

No.
Qsn

Marks

Reasoning

50

50

English

50

50

Quantitative Aptitude

50

50

General Awareness

50

50
The exam will be of 120 minutes of two hours.
There is negative marking.
The aggregate marks of candidates qualifying in the Online Test will be arranged in descending order in each category and the candidates in the order of merit, subject to 4 times the number of intake in each category, will be called for Group Discussion and Interview.
What to study for BMSB PO 2015-16?
1. Reasoning: First of all, This is a PO level Exam. So be prepared for some good quality questions. Do some seating arrangement problems which are different. Like in NICL AO, there were Floor based arrangements. Puzzles also should be practiced neatly. Always expect the unexpected. Talking about Syllogisms, it needs to brushed up as they can be tricky at times. Other problems are not reportedly tough for students so practice them as you are doing. No need to stress yourself. Remember Calmness is the key.
2. Quantitative Aptitude: Now, as we have seen earlier on NICL AO 2015, the Quantitative has evolved as a tougher section in the exams. So expecting that you should be study some lengthy DIs, hard simplification and calculative Simple Interest & P&L problems. Time management & calmness is the key to success in Quantitative Aptitude. So don't panic if you are stuck in some problem.
3. English Language: English is easy if you practice it daily. So practice the cloze test, sentence rearrangements and error corrections. A lot of quizzes will be given in exam pundit so stay tuned. We will give a post on how to score maximum in this section.
4. General Awareness: Now, General Awareness have 50 questions, so expect a lot of questions from Banking Awareness. The current affairs magazine for NICL AO 2015, the monthly magazine of March and you must practice the Expected Questions series on our website. Study current affairs from January 15-April 1 from our archive to be in the safe side.
Expectations
Reasoning – Moderate – Easy
Quantitative Aptitude – Tough – Moderate(calculative)
General Awareness – Moderate – Easy
English Language – Easy – Moderate


Try to attempt around 120-140 range.


All the best.


May the force be with you!
Download the Call Letter From Here >>
Regards
Team ExamPundit
Books For 2015 Banking/Insurance Exams