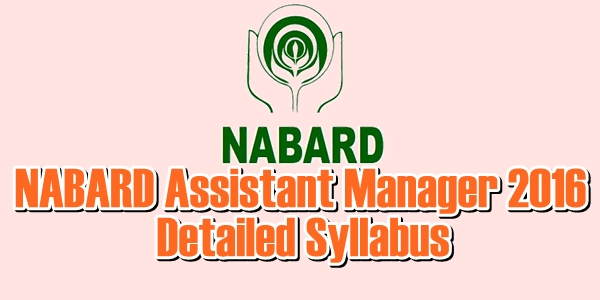 Hello and welcome to ExamPundit. Yesterday, NABARD released a notification of Assistant Manager and here is the Detailed Syllabus of the NABARD Asssistant Manager 2016 Phase I Exam.
Objective Type: MCQ (Multiple Choice Questions) carrying 200 marks.
Duration: 120 Minutes Composite Time
NO DESCRIPTIVE IN PHASE I
Part I
Test of Reasoning – 40 marks

English Language – 40 marks

Computer Knowledge – 20 marks

General Awareness – 20 marks

Quantitative Aptitude – 30 marks
Part II
Eco. & Social issues – 25 marks

Agri. & Rural Dev. – 25 marks
Part I
Reasoning –
It will be quite same like IBPS PO exam which will include a lot of Syllogisms, Puzzles and Seating Arrangements. Input/output can also be come.
Quantitative Aptitude –
Quantitative Aptitude might also be like IBPS PO exam which will have a lot of calculations. Data Interpretation, Interest, Time & Work and Wages, Trains, Boats, Quadratic Equations, Ratio, Simplifications are the major chapter to cover.
General Awareness –
Same like Bank PO exams. A detailed one will be given soon.
English Language –
English will consist Comprehension, Cloze Test, Fill in the Blanks, Error Correct, Sentence Rearrangements, Sentence Improvements and the level can be quite like IBPS PO Exam.
Computer Knowledge –
Computer Knowledge is expected to be somewhere between IBPS PO and LIC AAO.
PART II
Economic and Social Issues –
Nature of Indian Economy

Globalisation

Economic Reforms in India

Inflation and Effects

Economic Planning and Poverty

Poverty – Urban and Rural – Scenario – Impact and Measures

Poverty Allivation

Population Growth, Policy and Impact

Agriculture – Growth, Policy, Current Situation, Pros & Cons

Food Security – Issues and Measures

StartUp – Scenario, Impact

Public Sector Ent. – Performance, Policy, Scenario

Banking – All about Banking and its effect in Economy of India

World Bank, WTO, IMF and India

Education System

Human Development in India

Illiteracy – Scenario, Impact & Measures

Social Movements and Issues – Current Topics
Agriculture & Rural Development –
Agriculture Development
Agriculture – Scenario, Measures

Soil and Water Conservation

Water Resource – Irrigation Management [Very Important Topic]

Farm and Agri Engineering

Plantation & Horticulture

Animal Husbandry

Fisheries

Forestry

Agricultural extensions

Role of Krishi Vigyan Kendra's (KVK)

Ecology and Climate Change [VERY IMPORTANT]
Rural Development
Concept and Structure of Rural Area

Rural population in India – Scenario, Impact, Measures

Panchayati Raj Institutions

Rural Credit System, Role of Rural Credit in Rural Development

Role and functions of RBI, NABARD, SIDBI and other financial institutions in Rural Sector


You have to study the basics, definitions, problems, measures and current scenario and its impact of the above mentioned topics.
Regards
Team ExamPundit
Sponsored

(adsbygoogle = window.adsbygoogle || []).push({});