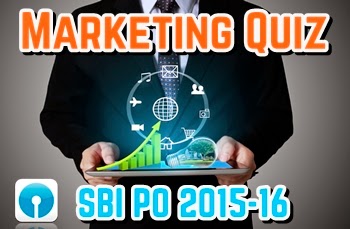 Hello and welcome to ExamPundit. We are kicking off SBI PO 2015 Marketing quiz with this set.
1. Good marketing strategy
envisages good and proper _______.
(a) Product distribution
(b) Networking of branches
(c) High Pricing
(d) Placement of counter staff
(e) Relationship management
2. Service Marketing
is resorted to in _______.
(a) All MNCs
(b) All production houses
(c) Industrial units
(d) Insurance companies and banks
(e) Fish markets
3. Customisation
results in _______.
(a) Customer exit
(b) Customer retention
(c) Customer complaints
(d) Better Balance Sheet figures
(e) Better technology
4. Current Accounts
are basically meant for _______.
(a) Investment purpose
(b) Savings purpose
(c) Identity purpose
(d) To earn Foreign Exchange
(e) Day-to-day needs of one's business
5. The sole aim of
marketing is to _______.
(a) Improve the Balance Sheet figures
(b) Increase recruitment
(c) Increase profits
(d) Increase production
(e) Increase branch network
6. Aggressive
Marketing is necessitated due to _______.
(a) Globalisation
(b) Increased competition
(c) Increased production
(d) Increased job and opportunities
(e) Increased staff
7. The best promotional
tool in any marketing is _______.
(a) Pamphlets
(b) Newsletters
(c) Word of mouth publicity
(d) Regional Advertisement
(e) Viral marketing
8. Market information
means _______.
(a) Knowledge level of DSAs
(b) Information about marketing staff
(c) Information regarding market share – See Below
(d) Knowledge of related markets
(e) Latest knowledge about technology progress
9. Efficient
marketing style requires _______.
(a) Proper planning
(b) Good debating skills
(c) Arrogant staff
(d) Knowledge of many languages
(e) Ignorant customers
10. Market
segmentation means grouping _______.
(a) The sales teams
(b) The customers as per their needs and tastes
(c) Selling arrangements
(d) The counter staff
(e) The back-office staff
11. EMI can be a
marketing tool if
(a) EMI is increasing
(b) It is very high
(c) It is very low
(d) EMI has no impact on marketing
(e) EMI is a flat rate
12. The USP of a
Current Account is
(a) high profitability
(b) liquidity
(c) low rate of interest
(d) costly transactions
(e) friendly features
13. Good competition
helps in
(a) improved sales
(b) improved customer service
(c) improved brand image
(d) All of these
(e) None of these
14. Debit Card can be
issued to
(a) Only Income Tax assesses
(b) Only Professionals
(c) Only women
(d) All farmers
(e) All Savings Account holders
15. Mutual Funds
investments can be effectively canvassed among
(a) only salaried persons
(b) students availing education loans
(c) HNI customers
(d) sunrise industries
(e) poor farmers
16. Product Design is
a function of
(a) front office staff
(b) back office staff
(c) management
(d) marketing and research team
(e) loan section
17. The target group
for Personal Loans is
(a) All Private Limited Companies
(b) All Businessmen
(c) All Salaried persons
(d) Minor children
(e) Newborn infants
18. The sales process
begins with
(a) customer identification
(b) lead generation
(c) sales presentation
(d) sales closure
(e) sales meet
19. 'Value added
services' implies
(a) additional knowledge of marketing staff
(b) service beyond normal hours
(c) service with extra facilities
(d) marketing agencies
(e) overtime work
20. Marketing in
banks has been necessitated due to
(a) globalisation
(b) excess staff
(c) nationalisation of bank
(d) complacency among the staff
(e) poor customer service


8. Note: the portion of a market controlled by a particular company or product is called market share.


Regards
Team ExamPundit
Sponsored

(adsbygoogle = window.adsbygoogle || []).push({});
Books For 2015 Banking/Insurance Exams