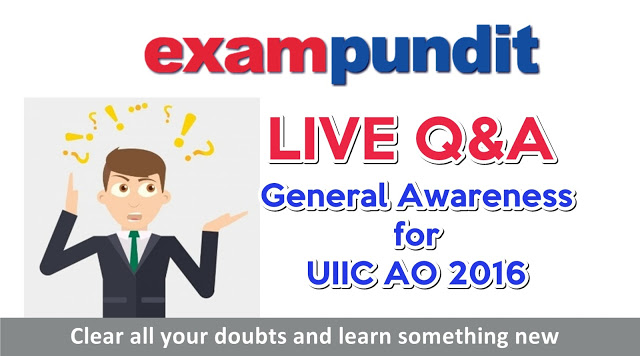 Hello and welcome to exampundit . In today's Live Q&A, we will learn all the important questions and doubts regarding UIIC AO General Awareness. Stick to the topic, else your comments, will be DELETED.
Those who are new and will participate for the first time,
Do not share links
Make sure when you are putting space in your comments, because if you don't give space, it will turn into a link and go to moderation section
Do not CHAT on irrelevant topics
STICK TO THE MENTIONED TOPIC i.e. General Awareness for UIIC AO
Help Each other
If you have any tricks, share with everyone
We expect a healthy & positive discussion.
Our initiators for today,
the fighter
Bahubaali
Chitrarth
S Dixit
Gaurav
Ruchi
Anubhav
How to start? – 1) Open the PDFs we have given, 2) Create one liners from them
NOTE: We hate to Ban anyone but if you are posting current affairs/general awareness questions from different portals, we will be heartless.
Sponsored

(adsbygoogle = window.adsbygoogle || []).push({});
Regards
Regards
Team ExamPundit