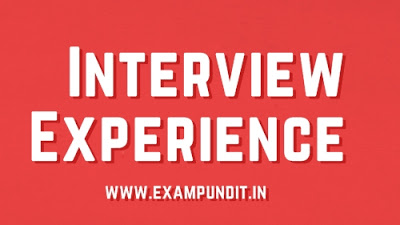 Hello and welcome to ExamPundit. Here is an Interview Experience Shared by Suchandan of IBPS RRB Officer Scale I.
Suchandan Bhar
Place- UBI, strand road, Kolkata.
panel- 3, 1pm.
**lets start with a point::
if you dont have your degree or
even provisional certificate you dont need to worry at all. but yes, you need a college leaving certificate
though. that will do.
now the main part.:
after entering you will be called for a
biometric test followed by document verification.
about 25 students are there in each panel. i was 18th. they
will call you according to the roll nos.
interview started then and lasted for 10 mins for each
candidate. never get tensed with the duration of the interview. you will be
judged equally no matter what.
well my time came.
may i come in
please??
yes, please.
greeted them all.
-please take your sit.
thank you.
-tell us about you.
told.
-so you are science
graduate. why banking?
answered wih modifications. make the answer in your style as
they are bored hearing the common facts.
-you are 2014 pass
out. what did you do last 1 year?
i got idbi executive.
-congrats
thanks.
-if you get this job
what will you do?
sir i will leave the former and come here. stated reasons
for that. (salary is double actually here).
-so you have job, we
will ask you tough questions.
what the hell ! no
way ! did not tell that though. told
them okay ask please.
-tell us about your
subject
told with elaboration and made a link with banking. (oh they
r happy from begining and it has gone to a nice level).
-what is your
favourite topic of your subject(botany hons)?
genetics.
-some questions related to it asked.
-what is your hobby?
oh i was waiting for that. illustrated again.
ok then get a bit healthier as you will have to handle a lot
of pressure in banks. (i am skinny 😀 )
-ok thank you, may your evening goes great today.
thanks. greeted them again.
-oh, Suchandan, do
you know to ride a motorbike?(in
bengali)
no sir.
-get a bike soon and learn riding.
big smile from me and everyone.. wow that was cooooool !!
ok guys thats it.. all the best !
N. b- they are not judging your dress. not your tie, not
your shoes and not your face. they will judge your intelligence and composure.
the whole interview was in english. yes i fumbled a bit,
(every bengali medium student does). but it doesnt matter as well.
thank you Anubhav da for all the helps ! J
If you want to share your Interview Experience, drop an email at [email protected]
Regards
Team ExamPundit
Sponsored

(adsbygoogle = window.adsbygoogle || []).push({});
Books For 2015 Banking/Insurance Exams