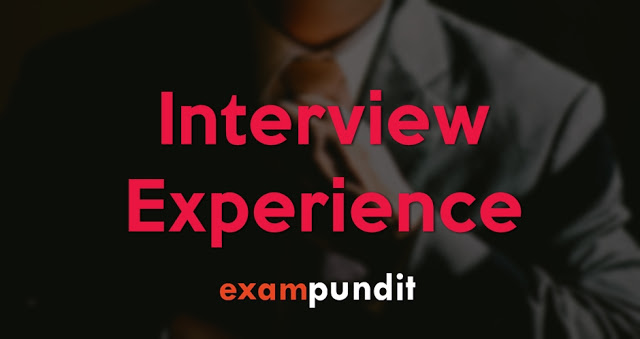 Hello and welcome to exampundit. Here is the RRB OS-I Interview Experience of Rakesh from Bihar.
Hi friends,
This is *Rakesh Sharma* from Bhagalpur, Bihar..
Venue: MBGB, Patna
Date: 18.01.2017
Time: 1 PM
Time Duration: 10-12 minutes
I reached the venue at 12pm. After biometrics & document verification i went to 3rd floor for interview. The time was 5.20 PM. My interview went around 10-12 minutes. I'm sharing each & every questions which were asked. There were 4 members in the panel( 3 male n 1 female). Now the actual game started..
Me:knocked.. May i come in..
Mam smiled n told come in..
4th sir.. Sit down
I had not greeted.. so firstly i greeted good evening mam..good evening sirs..
Again sir told ok sit down..
Head- Where u live?
Me: Bhagalpur, Bihar Sir.
Q- Rakesh, Your passing date of BCA is 2014, what u did since that time?
Me- Sir i was preparing for banking and doing trade in stock market
(Sir stopped for few seconds)
Q- trading? Are u sure?
Me- Ofcourse Sir..
Head sir: ok & started asking in English..
In which segment?
Me- Only in Equity Sir.
Q- why only in equity.. why not in commodity?
Me- Answered
Q- tell me difference between options & future trading..
Me- Answered
Q- what is Index..what is SENSEX?
Me- Answered
Q- where u trade
Me- NSE
Q-Why not BSE?
Me- bcz there's less volume.. due to this we can't exit at desired point..
Q- Your demat account is in which firm?
Me- Zerodha & Samco sir
Sir- ok.. What is brokerage now?
Me: flat Rs 20 or 1paisa(whichever is lower)
Q- What is Candlestick?
Me- Answered
Where you learnt trading, who taught u and when?
Me- Sir when i was in 11th-12th, then by joining online classes..
Sir to mam.. aap puchiye madam..
Q- Work of SEBI in stock market?
Me: Answered.
Q: Difference between Repo & Reverse Repo.
Me: Answered.
Q- Do u have bank account, in which bank, which documents will you take before opening a account?
Me: Answered.
Q: *Something Unknown*
Me: Sorry Mam i don't know.
Mam: kabhi nahi suna
Me: No Mam
Mam: Its ok.. pointed to another Sir..
Sir: Relation between NABARD & RRB.
Me: Answered
Q: According to u which sectors in India should be developed on priority basis?
Me: Answered.
Q: Tell me any 3 qualities we want to see in u as a *Bank Officer*.
Me: Answered.
Q: Why we convert binary to decimal and vice-versa.
Me: Answered.
Sir: Ok Rakesh, You can go now..
Me: Thank you sirs.. thank u mam..(mam smiled & told best of luck)
I came out..😊
(Overall panel member's behaviour was friendly.. everyone smiled but head was little strict.. he fired back to back questions)
This was my 1st interview, May God pass me in this interview..
Thank You
Sponsored

(adsbygoogle = window.adsbygoogle || []).push({});
Regards
Team ExamPundit

EP Recommends: Practicemock Free Mock Tests