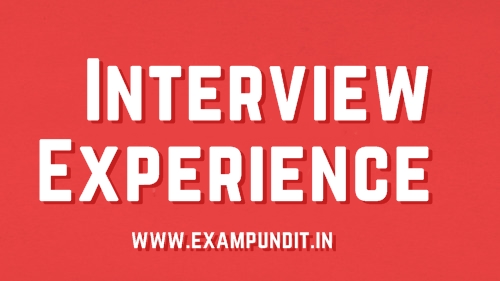 Hello and welcome to ExamPundit. Here is an Interview Experience shared by Abhishek from Himachal Pradesh of IBPS RRB Office Assistant 2015.
Venue – Hotel Park View, Mandi, H.P
Time: 08:30 am
Panel members: 1F, 4M
My number in the list was 21 i.e last number so i had to
wait till 12:45 pm for my turn
As i entered with a big smile again, (last time i had given
interview for OS-1)
Panel Head: arey ap to us din b aye the.. (I had given OS-1
interview on 18th)
Me: Yes sir, I was fortunate enough to clear this exam as
well
Panel head: (with a smile) ok ok, sit down. acha ye btao us
din kaisi rahi apki performance. apni interview performance ko rate karo out of
10.
Me: Sir, i think 8 tak to mil he gaye hone
Panel head: acha 8, to fir aj ane ki kya zarurat thi agar
apki us din itni achi performance thi so why have u come today
Me: (with a big smile, this dialogue popped up in my mind.
Though i was scared at first to say this but then i thot kya he ho jaega yar)
so i said: "Sir, this is my plan B"
and all started laughing and ma'm repeated my statement and
they laughed again.
Panel head: acha chalo us din apko kya nahi aya tha
Me: sir that day i was not able to answer your question on
JAM initiative.
Male member 2: acha chalo ap yahi explain kardo aur sath mai
ye bta do ki ye teeno kaise interlinked hai.
Me: explained and interlinking pe kaha ki sir ek channel ban
raha hai jisme government jo kam kar rahi hai public k liye wo public tak
pahunch raha hai intimation k sath. So logo ko pata lag raha hai ki unhe faida
ho raha hai.
Male member 2: ok ok ab isko ek example k sath explain karo
ek gaon ko mind mai rakhte gue.
Me: I gave an example of LPG subsidy distribution and PDS
They all seemed satisfied
Male member 3: acha apne news mai suna hoga ye jo 7th pay
commission ki report ayi hai. usme kitna percent increment btaya hai pay mai
Me: sir, 23.55% increment
Male member 3; aur iska kitna burden pad raha hai budget
par. kitna amount hai
Me: sir Rs. 1.08 lakh crore
Male member 3: acha iska economy mai kya faida hoga aur
kaise hoga
Me: sir is se spending/purchasing power bahdegi, per capita
income badhegi, government ka revenue badhega wo paisa govt development mai use
karegi, ya fir industry sector mai aur GDP bahdega etc etc.
Male member 4: Acha government farmers ki kaise help kar
rahi hai besides providing loans
Me: sir priority sector lending
M4: wo to theek hai but uske ilawa aur banking sector se
aage badho
Me: after thinking for a while sir cooperative societies??
M4: No no kuch aur
Me: i shook my head and said sorry sir at the moment yad nai
a raha
M4: arey bhai research centres etc etc
Me: yes sir palampur mai agriculture aur horticulture
universities hai jaha pe seeds aur machinery pe research hoti hai govt funding
par aur baki kisan call centre b launch kia hai govt ne.
M4: yes yes aur soil health card . and then he went on to
explain some more stuff to which i simply kept on nodding my head without
interfering and listening to whatever he said patiently and with a smile.
Then they all looked at each other and nobody wanted to ask
anything more. so i stood up from my seat then M4 again went on to explain
something more and i was simply nodding my head mujhe to sunai b nahi de raha
tha bahar bhagne ki jaldi lagi thi.
2-3 minute baad i left by wishing them thank you and have a
nice day mam and sir.
If you want to share any Interview Experience just mail us at [email protected] 🙂






Regards
Team ExamPundit
Sponsored

(adsbygoogle = window.adsbygoogle || []).push({});
Books For 2015 Banking/Insurance Exams