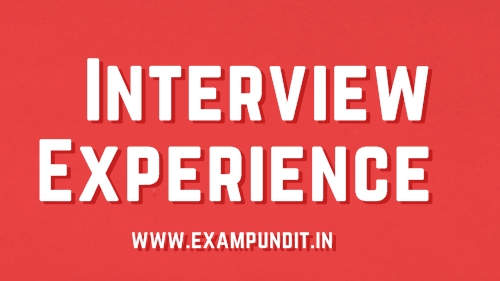 Hello and welcome to ExamPundit. Here is an Interview Experience shared by Avishek from Uttarakhand of IBPS RRB IV Office Assistant.
NAME-ABHISHEK VERMA
PLACE-DEHRADUN
VENUE-HOTEL DRONA
TIME-8.30
DATE-26/11/15
OFFICE ASSISTANT
PANEL-2
Reach venue at 8 a.m
some students are already wating there at 8.05 a.m they called us to sit in a lawn
and give us a paper to write 5 line in our opt languages for language proficiency check.
My turns come around 11.45a.m and my interview held for 10
-12 minutes
My turn come, I opened the door but no one seeing there they
are sit very far from the door,I move in the room and den saw one member and
ask to may I come in plz sir he said yes come in.
After complete entry in room I saw there are 7 member in the
panel 1 female and 6 male
I wish mam first then to all sirs.
They said to sit and the war begins now they only attack on
my weakest point
M1-tell me about urself?
Me-in very gud fluency I started my intro after 30 sec M1
interrupted me and said just tell me your
basic education as I am a post graduate they want only graduation . I told them
I m b.sc graduate with P C M +computer application .
M1-ok ,tell me about statutory liabilities with example
(from finance as I m mba finance)
Me-in my mind I have never hear dis term before so only
basis of my little knowledge I want to xpln but failed ,they took 20 sec nd den xpln it to me nd pass on to M2
M2-how to do marketing?
Me-xpln look satisfied
M3-you are graduate in computer application? Function of f8?
Me-yes sir. Sorry sir don't recall it I never use dis key
and never read it.:P(aur sb pta thi bt ye nhi)
M3-ctrl s ,ctrl z ,for redo what key is use?
Me-(kon ni janta)answered.
M4-what is NGO?
Me-full form forget but said them I will xpln u the function
of dis nd how it is work and xpln (luk not satisfy)
M5-why u left ur job from axis bank?
Me-tell them my points
M5-tell me the qualities which you have as a assistant manager?
Me-xpln
M6-crop season kitne hote h india me?
Me-answered
M6-kharif ki faisal kb lagai jati h?
Me-confuse in it tell
june ,they said ulta bol rhe ho ,I said sorry sir.:P
M6-aapne English me jo topic likha h priority sector pr usme 15% kisko milta h advances ka?
Me-answered.
F1-tell me about guerrilla marketing?
Me-surprised I don't hear dis word ever,they all laughing
and said ye wo gorilla ni h jungle wala marketing ka h?
Me-mam m marketing se nhi hu finance se hu ,she said to kya
hua beta basic to pdhate he h mba me ,I said maine ye kbi ni suna,she said ok
F1-what is offensive and defensive marketing?
Me-try to manipulate them as I also don't hear dis nd then
say sorry mam.
F1-are you know HUF?
ME-yes mam hindu undivided family.
F1-kya hota h ye ?
Me-mam ek pura kunba hota h jisme ek mulkhiya hota h .
F1-mukhiya ko kya bolte h and family members ko kya bolte h?
Me-thodi der socha
and then said sorry again.
F1-karta bolte h mukhiya ko ,family member ko kya bolte h?
Me-sorry
F1-female include hoti h isme?
Me-yes mam
F1-ok beta ,pass on to m2
M2-swot analysis kya hota h?
Me-tell them with xampl.
Ok beta ab aap ja skte h .thanx them and puri tez bhaga
wanha se.:P
Bht buri trh se fansaya mjhe hawa khrab ho gai thi puri koi
smile ni dera tha sb serious mode pr they,bs mam thodi kind thi bt unke
questions ne jhand kr di.
Sb k sb retired they .itni jhnd aaj tk nhi hui.:P
All the best to all of you EP'ians.:)


Regards
Team ExamPundit
Sponsored

(adsbygoogle = window.adsbygoogle || []).push({});
Books For 2015 Banking/Insurance Exams


EP Recommends: Practicemock Free Mock Tests