The Indian Railways have announced to repaint 30,000 conventional coaches manufactured at the Integral Coach Factory in Chennai.
The new colour scheme of Indian Railways is beige and brown.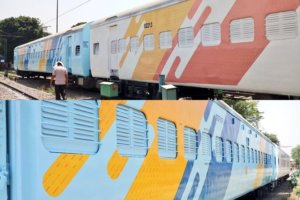 Except Rajdhani, Shatabdi, Duronto and newly launched Tejas, Gatimaan and Humsafar Express Indian Railways would be repainting all Mail and Express trains.
The first train to sport the new look will be Delhi-Pathankot Express, 16 coaches of which have been repainted with the new colour scheme.

EP Recommends: Practicemock Free Mock Tests