India has the highest level of non-performing assets (NPA) among BRICS countries and is ranked fifth on a list of countries with the highest levels of NPAs, a report by CARE Ratings revealed.
The only countries ranked higher than India on the list are Greece, Italy, Portugal, and Ireland. All these countries, along with Spain, are commonly referred to as PIIGS, and have been victims of sovereign debt crises in recent years.
Spain is the only PIIGS country ranked lower than India on the list, with an NPA ratio of 5.28 percent. At 9.85 percent, India's NPA ratio is over 400 basis points higher.
In its report, CARE Ratings said that 'the seriousness of the NPA problem can be gauged by the absolute level of impaired assets in the system. Ever since the RBI had spoken of asset quality recognition (AQR) in 2015, there was an increase in the pace of recognizing these assets'.
Here are highlights from the Report…
The four major economic drivers in the developed world, UK, US, Japan and Germany had NPA ratios less than 2%.
Within the emerging market economies (EMEs), China, Argentina and Chile had low ratios of between 1-2%.
Within the developed countries, France had a higher NPA ratio of 3.41%.
Brazil and South Africa, which are part of the BRICS Group of nations, had moderately high ratios of 3.69% and 2.83%, respectively.
India's NPA ratio (which excludes the restructured assets which are around 2% higher than NPA) is one of the highest in the group.
The countries with higher NPA ratios than India are part of the PIIGS group- Portugal, Greece, Italy, Ireland.
Spain had a lower number at 5.28%.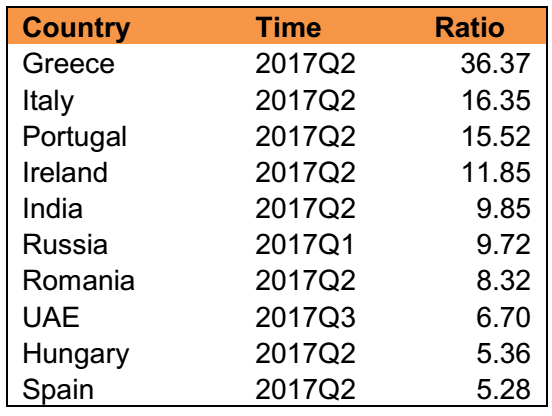 Average rating / 5. Vote count:
We are sorry that this post was not useful for you!
Let us improve this post!
Thanks for your feedback!