Indian Railways has started recruitment drive at entry level. This is a great opportunity for job aspirants as this organisation is known for employee benefits. The question paper will be based on three sections i.e. General Knowledge, Reasoning and Math. The aspirants are required to make command on these sections. Out of the three, General Knowledge section is most important to secure your seat. Through this article we are sharing important General Knowledge topics for RRB Group D exam.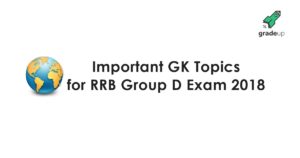 There are certain topics which are very important as per analysis of previous exams. The source of preparation also matters a lot, therefore we have compiled a list of all important topics after a thorough analysis, and also we are providing topics wise sources to study:-
Current Affairs and Static GK
Topics
Source

Bodies of Government of India

Gradeup App – Static GK Notes

S.I. Units – Basic and Derived units

International Organization – Like IMF, World Bank, EU, G20 etc.

Olympic Games – Venues of previous and upcoming games

Trophies and Cups – Recently completed tournaments.

Places Associated With Sports

Famous Tourist Spots of India

Famous Sites Of World

Wonders Of The World

Pulitzer Prize

Bharat Ratna

Padma Awards

Grammy Awards

Jnanpith Award

List of Jnanpith Awardees

Asian Games

Ramon Magsaysay Award

Books By Indian Authors

Current Affairs:-
Weekly GK Digest on Gradeup

Schemes announced by center and state

New products launched by various government undertaking bodies

Relations of Indian diplomates with other countries

MOUs signed by Government and undertakings

Books launched by famous celebrities

Tournaments of various sports

Awards in recent news

National Current affairs
Practice for Railway Group D with Gradeup's Mock Test – Link
Topic
Sub Topic
Source
Physics

Force and pressure – All important laws.

Physics Capsule of Gradeup
Friction – Meaning and Types
Gravitation – Keppler's laws, Universal law of gravitation etc.
Solar system – Famous constellations
Mechanics (newton laws, centripetal, centrifugal forces, projectiles, angle of banking, potential & kinetic energy)
liquids (capillarity, surface tension, viscosity)
Sound- Units and important formulas
Heat – Laws, units and formulas
Light – Laws of reflection and facts related to images formation.
Electricity – Laws and theories.
Magnetism – Laws and formulas
satellites
Modern physics (atomic energy, radio activity, cosmic, x rays, visible spectrum.)
Chemistry

Acids, bases and salts – Formulas and laws related to it, equations etc.

Chemistry Capsule of Gradeup
Atoms and molecules – Definitions
Metals and non-metals – Definitions and examples.
Periodic table classification
carbon compounds(hydrocarbons, polymers)
Metallurgy – Important ores and minerals, names related to particular metals.
Physical and chemical changes
Bio molecules(carbohydrates, proteins, fats)
Nuclear reactions – Important nuclear reactions.
Biology

Cell structure – Organelles name and functions.

Biology Capsule of Gradeup
Living organisms classification
life processes of plants and animals (nutrition, digestion, respiration, circulatory system, blood, excretion)
Control & coordination(nervous system, eyes, ears)
Endocrine system & reproduction
Digestive enzymes
Hormones – Names and functions
Vitamins – Names functions and disease related to deficiency of vitamins.
Infectious diseases
Natural resources management(air, water, soil pollution, wetlands, forestry, wildlife)
Practice for Railway Group D with Gradeup's Mock Test – Link
In this section, only a few questions are expected. For the safer side, aspirants are advised to follow tips given below:
Complete the basics of History, Geography, Polity and Economics.

Practice questions from topic wise quizzes.

Go through previous years questions.  
These are the most important topics for RRB Group D exam. The aspirants must keep in mind some important tips while preparing for this exam:-
Try to cover these topics in priority basis. The topics with more weightage should be covered first. Try to attempt as many quizzes as you can. If you keep on reading these topics without taking tests you may feel bore.

Try to make mnemonics of important topics so that you can easily remember facts. As per a study, our associative memory helps us in remembering things after the age of 18. So try to associate things with well-known things, facts, objects or memories.

Don't spend more than required time on a particular topic, instead try to priorities sub topics of that topic.

Success is achieved with consistent efforts. Try to study GA everyday instead of keeping it aside for last few days.

Put more stress on previous year's questions as Railways repeats questions.

Discuss topics with others, it will help you getting clear in your doubts & highlight the area you need to work.
Practice for Railway Group D with Gradeup's Mock Test – Link
If you wish to be updated regarding the upcoming exams, their patterns, syllabus and other details, you can try Gradeup App. It provides free study material, updates of upcoming exams and mock tests for various competitive exams.
Exam Prep App for IBPS | SSC | CTET | GATE | CAT | JEE
All the best for your exams…
Team Gradeup..!!
Average rating / 5. Vote count:
We are sorry that this post was not useful for you!
Let us improve this post!
Thanks for your feedback!
EP Recommends: Oliveboard Mock Tests