Herewith we have provided Important Days and Theme for each day. As we all know Important days and dates topic plays crucial role in all competitive exams. Aspirants those who prepared for competitive exams can get Daily Important Days and Theme 2020. In this page we have given Important Days and Theme in July 18.
Important Days and Theme – July 18
International Nelson Mandela Day: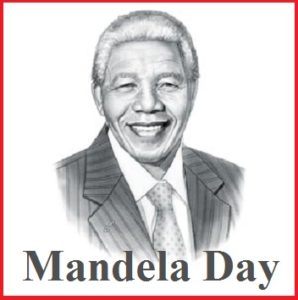 International Nelson Mandela Day is also called as Mandela Day.
It is celebrated to honour Nelson Mandela's service when his birthday.
The day was observed by the UN General Assembly in November 2009.
The first Mandela Day was celebrated on 18 July 2010.
This day remembers Mandela's achievements in working towards conflict resolution, democracy, human rights, peace, and reconciliation.
The major campaign message is: "Nelson Mandela has fought for social justice for 67 years from 1942. We're asking you to start with 67 minutes."
Extra Shots:
Mandela received more than 260 awards over 40 years, most notably the Nobel Peace Prize in 1993.
He describes as the Father of the Nation (South Africa) which referred Madiba, means father.
We are sorry that this post was not useful for you!
Let us improve this post!
Tell us how we can improve this post?