Herewith we have provided Important Days and Theme for each day. As we all know Important days and dates topic plays crucial role in all competitive exams. Aspirants those who prepared for competitive exams can get Daily Important Days and Theme 2020. In this page we have given Important Days and Theme in July 12.
Important Days and Theme – July 12
World Malala Day: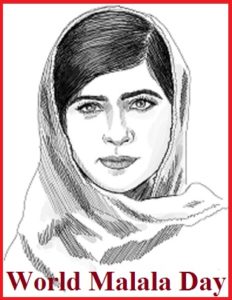 The Malala day is celebrated on July 12 which is Malala's birthday.
This day has observed by UN Assembly to honor women and children's rights on 2013.
Malala Yousafzai who has been a prominent activist for female education since her early teens.
In October 2014, Malala won the Nobel Peace Prize along with Indian children's rights activist Kailash Satyarthi.
Malala Yousafzai was the youngest Nobel Prize winner.
In 2013, she was started Malala Fund which ensure 12 years of free, safe and quality education for every girl.
On October 9, 2012, she was head shot by Taliban gunmen.
After several five hour operations, she was turned into stable condition.
In 2012, she was the recipient of Pakistan's first National Youth Peace Prize.
Extra shots:
Malala has received more than 50 awards like International Children's Peace Prize, Order of the smile, Mother Teresa Award, etc.,
More than 130 million girls around the world from going to school through Malala Fund Organization.
We are sorry that this post was not useful for you!
Let us improve this post!
Tell us how we can improve this post?