Herewith we have provided Important Days and Theme for each day. As we all know Important days and dates topic plays crucial role in all competitive exams. Aspirants those who prepared for competitive exams can get Daily Important Days and Theme 2020. In this page we have given Important Days and Theme in August 13.
Important Days and Theme – August 13
World Organ Donation Day: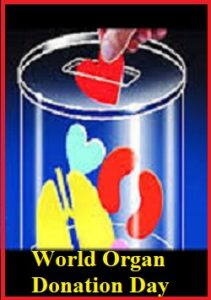 The World Organ Donation Day is celebrated every year on August 13.
It is celebrate to raise awareness about the importance of organ donation and motivate people to donate organs after death.
This day provides an opportunity to all to come ahead and donate their precious organs.
Extra Shots:
One organ donor can save up to eight lives.
International Left Handers Day:
The Day is to celebrate the uniqueness and differences of the left handers.
This day was first observed in 1976 and was officially declared in 1997.
 And also, to raise awareness of the advantages and disadvantages of being left-handed in a predominantly right-handed world.
We are sorry that this post was not useful for you!
Let us improve this post!
Tell us how we can improve this post?