Hello and welcome to exampundit. Our very own follower Tanmay has shared the IBPS RRB OS-I 2017 Interview Experience from Aurangabad , Maharashtra.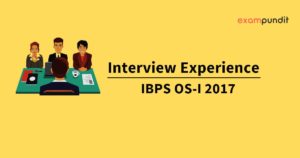 Here it goes….
---
Venue – Aurangabad , Maharashtra
Time – 1 pm
28-12-2017
Biometric n document verification took a bit of tym…
Called for intervw at 4pm
panel 3- 5 M n 1 F
Greeted them – good afternoon……
M1- Diff between Bsc Comp n BE computer???
Had u studied hardware in your course ??
Me – No….
m1- ohk what is software???
OS kya hota hai???
Ups ka kaam batao n,parts bhi???
Keyboard pe sabase chhota key kounsa hota???
Android kya hai???
Word Excel kya hai???
Power point ka use batao??
me – answered all….
he looked happy..,.
then m2 – kisan credit card ke bare mein batao kuch
Me – Blank ho gaya achank
couldnt answer…..
F1- problems of farmers mention karo….
me – answered…..
m3- How will you deal with them ???
me – answered….
they said that's it. Thank you 🙂
End mein bole relax accha hua hai aapka interview.,
---
Regards
Team EP
Average rating / 5. Vote count:
We are sorry that this post was not useful for you!
Let us improve this post!
Thanks for your feedback!