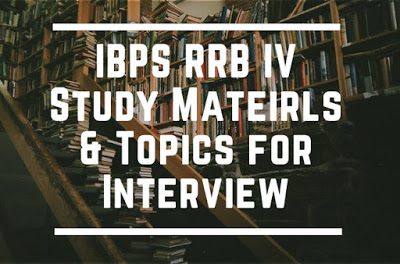 Hello and welcome to ExamPundit. As promised, we are giving you Important Links for IBPS RRB
Interviews.
You need to
study these basic banking topics:
RGTS/NEFT
RBI Rates – How much it was reduced/increased
Various Banking Appointments – Last 2 months
Difference Between Various Banking Products
Bank Head Quarters
Acronyms – SLR/CRR etc. and their definition
Various Accounts and Their Features.
Various Apps and Their Features
For The
Banking Portion Follow these links:
We have provided Official FAQs page of RBI Link as it contains plenty of information and will easily help you to browse and study.
For Current Affairs – The Monthly Magazine will be provided
today. So read that along with the September issue.
Important Current
Affairs Topics:
GOLD SCHEMES & COINS
Women in Indian Air Force
Nobel Prize 2015
IMF & World Bank Reports
RBI's Bi-Monthly Policy in October
PM Laid the Foundation stone of AP Capital Amravati
AMRUT
Facebook & Internet.org – No In-depth needed
IDFC Bank – A brief about it
Last but not the least, generic HR Questions and your
Academic questions shall only be prepared by you. Because, i) HR Questions
should be answered in a way which will express your personality and ii) the
academic questions will be from the core subjects and followed by counter or
related questions.
However, we will hold a Live Interview Discussion Session in
exampundit on Sunday i.e. 8th November, 2015.
All the best. Study Hard.
Regards
Team ExamPundit
Sponsored

(adsbygoogle = window.adsbygoogle || []).push({});
Books For 2015 Banking/Insurance Exams