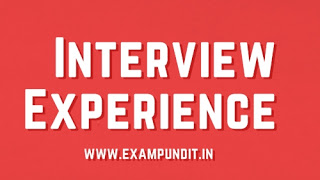 Hello and welcome to ExamPundit. Here is an IBPS PO V Interview Experience shared by Tanmoy from Kolkata.

Name: Tanmoy Kumar Das
Degree: B. Tech [ECE]
Place: UBI South Regional Office, Kolkata
Panel: 5
Interview Duration: 10 Mins
Date: 27th January, 2016
Slot: 2nd Shift, 1 pm
Interviewers: 4M+1F: M1, M2, M3, M4 & F1 [Left-to-Right]


1. Introduction?
2. First interview or not?
3. What is your SWAT [Strong point & weak point]?
4. Who got padmashri from west bengal?
5. Name some cinema artists got padmashri too?
6. Present and past finance minister of West Bengal?
7. Explain CASA
8. If RBI tell banks to stop opening CASA account, banks can open only FD/RD account, what will be the effect on banks?
9. Some personal Questions like, what does your father/brother do?
10. "Mamata didi has told that she will make kolkata as London, what similarity can you see between London and Kolkata?
















Regards
Team ExamPundit
Sponsored

(adsbygoogle = window.adsbygoogle || []).push({});
Books For 2015 Banking/Insurance Exams