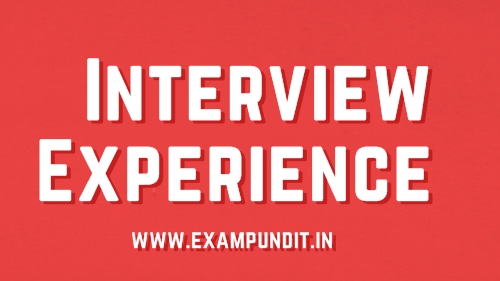 Hello and welcome to ExamPundit. Here is an Interview Experience of IBPS PO V shared by Survivor from Bhopal.



Name : $urv!vor
State : MP
Qualification-BE-ECE
Center : CENTRAL BANK OF INDIA BHOPAL
Shift : 8.30AM
Panel-3


I have seen there is noone from bhopal who share their experience so from bhopal too this is my interview experience
My interview session was scheduled at 8.30 and the paper verification for 9am.
After the verification they called me to the interview room and my number was 11. this is my 3rd interview


m1- please come in
me- thanks sir and gm to all


m1-so ur from 2011 batch so what ur doing nowadays
me-prep for govt exams!!!!!!!!


m1- for govt exam!!!!!!!!!!!!!!!
me-yes sir competitive exams


one member gone outside for Tea break !!


m2-what ur doing from 2011 to this year ?
me-searching job in my field but can't get and have very less growth options so opted for banks


m3-why u r not selected somewhere?
me-(koi leta hi nhi kya kare) Technical not that strong


m2-what is NASSCOM ?
me- tell him somehow


m2 now what nasdaq??
me-sry


m2-nabard established in year??
me-told


m2-what before nabard??
me-told


m4(female)-credit and debit card difference?
me-told


m4(female)-what are short term liability and long term liability of banks?
me-sry


m3-what ur father do?
me-bank clerk now scale 2 in sbi




m3- some question about sbi
me-told


m2- where do you live?
me-bhopal


m2-tell me something about the locality
me-told(checking local awareness of city )
one member comes back …….
m2-ok thats it


me – as i just stood up from chair m2 asked
jate jate bata do what is bhabha (my college name )???????
me-sry sir i don't know


m2-he told me correct ans now u can go thanks


thats all all question-answers were in HINDI
they are not interested at all in taking anyone interview at BHOPAL all are lazy people they all are complaining for Tea not given on that day as its holiday
Interview lasted for 5-6 minutes. Others interview also on average-5-8min .
thats it guys ~i hope this time i make it
thanks and all the best






You can share your Interview Experience at [email protected]
View all the IBPS PO V Interviews from here:




Regards
Team ExamPundit
Sponsored

(adsbygoogle = window.adsbygoogle || []).push({});
Books For 2015 Banking/Insurance Exams