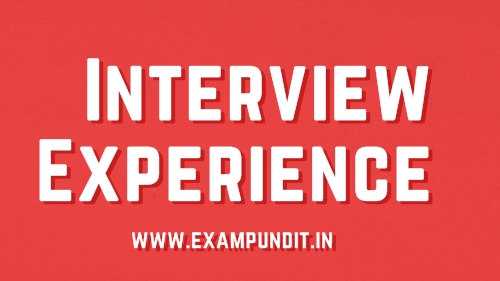 Hello and welcome to ExamPundit. Here is the Interview Experience of IBPS PO V shared by our very own Kapil aka Bahubali

Name : Kapil
EP Id : Bahubali
Interview date : 21-01-16
Time : 1pm
Venue : Hotel Maple Wood, Ranchi
Panel : 3


I reached venue at 12:40 pm. It is a "shaandaar" hotel. We were allowed to enter at 1 pm. There were 4 panels. Each were taking interview of 22 candidates. I was 13th in the list. Documents verification started at 1.30 pm. My turn came at 3.30 pm. Board were very cordial. Then..we were taken to interview hall. I entered at 5.15 pm.


Me : please may I come in ??
Sound came : yes..yes.. come in .


【 I entered the room. There were 5 people. 3 male..2 female..
M1 – head, about 50-55..in suit
M2 – handsome near 45-50..in blazer
M3 – about 50..in sweter
F1 – looking matured.. 45-50..in saree
F2 – young..dynamic lady.. about 30-35..didn't speak even a single word..was observing from top to bottom..& writing something continuously..】


I reached near the table..wished everyone nicely.. with smile..


M1 – plz..take ur seat
Me – thank u.. sir


M1 – ooo..kapil..nice name.. es naam se mujhe kisi player ki yaad aati hai..any guess ??
Me – sir.. kapil dev ??


M1 – yes yes..kaun hai wo ??
Me – explained nicely.. as I had already prepared.


M1 – accha..wo bowler tha ya batsman ?
Me – sir…basically bowler the..jo apne energetic action & outswingers ke liye jane jaate hain.. lekin unhe all rounder v kaha jata hai..


M1 – good.. whats ur nick name ?
Me – sir..nothing.. but my friends use to call me "Bahubali".
(All started laughing.. :DDD)


M1: Bahubali.. why ??
Me : sir..bcoz they think I've firm determination like him.


M1: kya baat hai..smiling..


M2: aapki qualification kya hai ?
Me : sir.. graduation in physics hons..


M2: physics ?? One of the premium subject.. from which clg ?
Me : told


M2 : avi haal mei hi hmne suna ki kisi country ne hydrogen bomb test kiya..jis se bhukamp aa gya ?
Me : yes sir..north korea ne..


M2 : q kiya ?
Me : sir..we can guess only.. dominate karne k liye..


M2: atom bomb kya hai ?
Me : explained


M3(in between) : hmne suna hai ki kisi country ne kisi pe ye gira diya tha ??
Me: sir..USA ne Japan pe giraya tha


M3: kb..aur kahan ?
Me: (lol..everyone knows)


M3: uska effect avi v hai ??
Me: explained


M3: to enn radiations se bachne ka kya upaay hai ?
Me: sorry sir.. I dont know proper answer
(Then..he explained)


M2: accha..nobel prize kisko mila es baar physics mei ??
Me: told


M2: 2 aise indian ka naam btao jinhe physics mein nobel mila ho ?
Me : sorry sir.. I know..only one


M2 :btao btao
Me : sir.. C V Raman..in 1930


M2 : for.. Raman effect na ??
Me : yes sir


M2: aur koi indian..jisse nobel mila ho ?
Me : sir.. mother teresa for peace.. kailash satyarthi for peace.. prof. Sen in economics


M2: prof sen indian hain ??
Me: yes sir


M2: nhi..wo indian origin k hain..ab wo yahan nhi rahte
Me: sorry sir..mujhe nhi.pta tha ye..


M2: then he named some …….govind. … inhe jaante ho ??
Me : sorry sir.. I dont know 🙁


M2: ok ok..koi nhi.. kuch DNA se related btaye..jinhe nobel mila tha..


F1: physics wala bank mei.. q aana chahte ho bhai..?
Me : explained


F1: kahan likha hua hai..ki bank fast growing field hai ?
Me: mam..I read on net


M2: arre madam..ee sb site wala sb hai na..sb ee log ko paglaaye hue hai..sb ee sb farzi hai..
& THEY ALL STARTED LAUGHING


F1: banking ki ek book aati hai.. koi TOOR ki..jaante ho ??
Me: yes mam.. N.S. TOOR ki..


F1: padhe ho ??
Me: no mam..bs dekha hai..bhaiya padhte hain. Ciib jaib k liye..


F1: kya hai Ciib jaib..??
Me: mam..ye promotion k exam hain..


F1: plz explain ?
Me: sorry mam.. no idea


F1: beta..dhayan dena chahiye na ye sb pe..padhna jaake..thik hai..
Me: sure mam


M3: accha kapil.. aapke papa ka kya naam hai ?
Me: told


M3: kya karte hain ?
Me: sir.. he is a business man


M3: kis chiz ka ?
Me: sir.. potato-onion shop


M3: to local ya dusre states se import v karte hain ??
Me:gave detail


M3: ramgarh ke aaloo ka size kya hota hai ??
Me:(shocked) sir..on the basis of what ??


M3: radius ??(& started laughing)
Me: sir..measure nhi kiya kvi..lekin medium size hota hai..


M3: arre nhi..chota hota hai..
Me : aur sir..bahut tasty hota hai..


M3: tbhi to demand hai.. accha ye store se aata hai ya direct ?
Me: sorry sir..no idea


M3: tum dukaan mei q nhi baithte.. itna accha business hai..?
Me : explained..


M3: ok ok.. padhai karo aur naukari lo..acchi baat hai..
Me: yes sir


(Then they looked each other..)


M1: ok mr kapil..aap ja sakte.hain..


I stood up..& thanked everyone..happily..


F1: ek chocolate le lijiye..
I took one..& thanked again.. 😀


I came out..its 5:31pm..kuch samajh nhi aa raha mera interview kaisa hua.. no banking-economy questions.. no opinion based..no situation based questions… only 1-2 liners..wo v kafi hassi-mazk k sath..





Lastly.. thanks Anubhab sir.. thanks team EP & All my EP frnds.


Regards
Team ExamPundit
Sponsored

(adsbygoogle = window.adsbygoogle || []).push({});
Books For 2015 Banking/Insurance Exams


EP Recommends: Practicemock Free Mock Tests