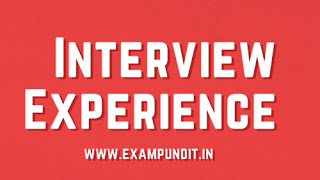 Hello and welcome to ExamPundit. Here is an Interview Experience of IBPS PO V shared by Abhinav from Noida.
Name –
Abhinav Awasthi
Venue- Noida
Sec-62
Date and
Time- 28/01/2016 8:30 AM, Panel- VI
I am not
going in to the details of biometric and Document Verification. Everything was
in place and process was going very smoothly.
Lets come to
the INTERVIEW
There were 5
people in the panel. M1,F1,M2(Chairman),M3,M4
I entered in
to the room greeted them , M2 offered me seat.
M2: So
Mr Awasthi. tell us about yourself
Me: Told
M2: u have
completed your Btech in 2013 . tell us your journey from 2013 to till date.
Me: Told
about my job and banking preparation.
M2:Why
banking?
Me: Told
M2: Growth
opportunities are also there in private sector?? He gave example of Indira
nooyi
Me:
justified my answer
M2: what do
u think every PO will become GM one day?
Me: Sir in
all the cases may be this is not possible but in my case I m going to utilize
each and every opportunity of growth that will be given by my bank.
M4: in 2016
in which states there are election?
Me Assam,
West Bengal, Punjab
M3: What is
NPA?
Me : Told
M3: can
there be NPA in a organization other then banks?
Me : YES sir
M3:How?
Me: If a
employee is sitting idle , he is not working in his full strength. He ia a NPA.
M3 and M2
simaltaneously said Exactly
M2: that's
what I want to listen
M2: ok
abhinav I have enjoyed talking to u wish u all d best. U may go now
Me: thank
you sir
Interview
was purely in English. Not a single word of Hindi.


Regards
Team ExamPundit
Sponsored

(adsbygoogle = window.adsbygoogle || []).push({});
Books For 2015 Banking/Insurance Exams