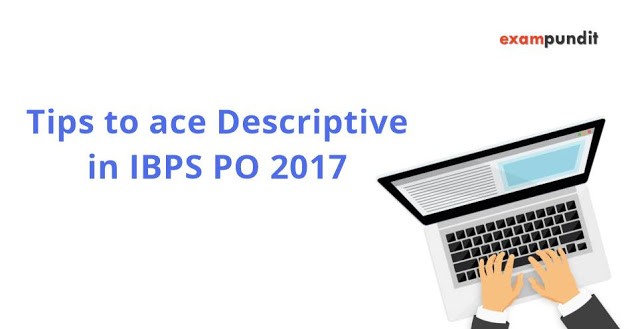 IBPS PO Mains 2017 exam is scheduled on 26
November 2017. The PO mains paper also consists of a descriptive writing test
that is qualifying in nature. Here are few tips on how to prepare for these
tests, the evaluation criteria and some dos and don'ts. These tips are brought
to you by
Oliveboard
,
an online exam preparation platform for banking and government jobs. Let's have a quick glance through the exam pattern
first.
IBPS PO 2017: Main Exam Pattern

The
Main exam also consists of an English Language Descriptive Writing Test.
Questions: 2 (1 on
essay writing; 1 on letter writing)
Maximum Marks: 25
Time Allotted: 30
minutes
In the IBPS PO 2017 Mains Descriptive Writing
Section, there will be two questions: Essay Writing and Letter Writing.
As
essay writing is slightly longer than letter writing, candidates are advised to
allocate their exam time accordingly.
IBPS PO Mains Descriptive Writing: Evaluation
Criteria
There are no set evaluation criteria for the
descriptive section paper; however few common things that are taken in to
consideration are:
Content: Address the
topic from differing viewpoints and cover various aspects. Provide
details, examples and explanations. The examples should support the point of
view shared.
Formal Requirement: Especially
for letters, strictly adhere to the prescribed format. If it is not
present, marks might be deducted. For essays, make sure you don't exceed the
mentioned word limit. Structure the essay in multiple paragraphs.
Structure and Coherence: Make
sure you address each of the following while developing any essay.
Does
each paragraph contain just one idea or concept?
Does
the evidence presented support the writer's argument?
Does
this paper have a beginning (introduction), a middle (body), and an end
(conclusion)?
Grammar,
Vocabulary and Spelling should be
carefully checked for both letter and essay writing.
IBPS PO Mains Descriptive Writing: How to Prepare
Read
newspapers, magazines, novels etc.
Start
writing. Pick up any topic and practice writing.
Edit
once you are done with writing to give the entire write-up a proper structure
Analyze &
Evaluate: It's a good idea to let another person (preferably one who is
good at writing) analyze and evaluate your writing.
Continue this cycle
of writing editing and analysing till you are satisfied with the essay or
precis.
Stick to the word
limit provided. If no word limit is provided, try to limit your essay to around
250-300 words.
Avoid using
colloquial, slang, SMS 'lingo' while you type. No using "I'm", "wat",
"thx","ASAP", "gr8" etc. or informal words such as 'veggies' instead of
vegetables, 'Kids' instead of Children, 'Anyway' instead of Nevertheless etc.
IBPS PO Mains Descriptive Writing: Sample Topics
for Practice
Consequences of
Brexit
Merger of SBI with
its associates
Resentment over 7th
Pay Commission
MPC (Monetary
Policy Committee) formation
Rising NPAs of
Indian Banks
India's NSG Debacle
What to expect from
the new RBI Governor
7% Growth in Indian
Economy: Figures and Realities
Make in India:
Where we have reached
Modi Government:
Achievements and Challenges