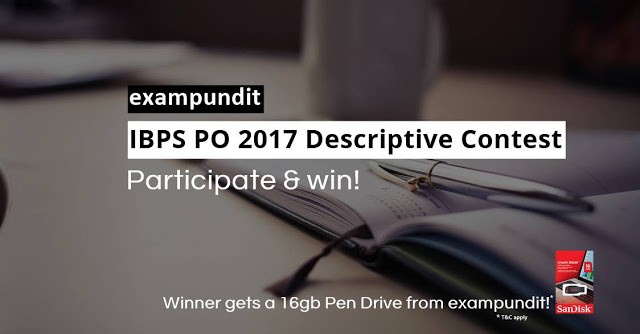 Hello and welcome to exampundit. Here is the 2nd Part of IBPS PO 2017 Descriptive Contest.
IBPS PO 2017 – Descriptive Topics – Part 2
Essay:
Right to Privacy – Pros & Cons
Rise of Artificial Intelligence – Impact on Human Resources (Workers, employees)
E-Waste & Medical Waste – Necessary steps to tackle the issue
Air Pollution – What are the necessary steps to tackle Air Pollution & Smog
Railway Safety or Luxury? – Your Views
Letter:
Write a letter to the editor suggesting ways to create awareness about Goods & Services Tax.
Write a letter to the editor describing what success in your words is.
Write a letter to the bank manager requesting to replace your Magstripe Debit Card with EMV Chip Card.
Write a letter to any of your family member asking about his/her well-being and giving some advice on Air Pollution.
Last Date to Send Your Entries: 11.59 PM , 16th November, 2017
READ THE FOLLOWINGS CAREFULLY
Rules:
You can submit at least 1 and maximum 6 topics.
You cannot copy paste from other articles/essays.
You are allowed to research and compile data to pen your essay/letter.
You must send your essay/letter in MS Doc format.
Terms:
Exampundit solely reserves the right to accept/reject any entries.
The points awarded to aspirants will be unbiased and at no point will be changed. Unless there is any typing error.
There are NO CHARGES OR FEES TO PARTICIPATE IN EP'S DESCRIPTIVE CONTEST. Participation is Absolutely Free.
Exampundit reserves the right to amend/change any rule/terms at any point.
Winner & runner-up will be decided at the end of the contest (Part 6)
Prize:
Winner: 16GB Pen Drive + EP Goodies
Runner-up: 8GB Pen Drive
Sponsored

(adsbygoogle = window.adsbygoogle || []).push({});
Regards
Team ExamPundit