Hello and welcome to exampundit. IBPS will conduct the IBPS Clerk Mains 2017 examination on 21st of January. Most of the aspirants qualified for mains have already started preparing hard! In order to help you boost your performance, today we are sharing the much awaited IBPS Clerk Mains 2017 Study Plan.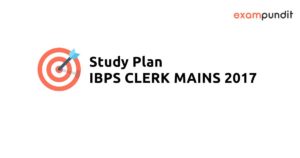 At first, we will look into the IBPS Clerk Mains 2017 Exam pattern. The mains examination will have 190 questions in total carrying 200 marks with 160 minutes or 2 hours 40 minutes where each section has an allotted time slot.
IBPS Clerk Mains 2017 Exam pattern
| | | | |
| --- | --- | --- | --- |
| Name of Tests (NOT BY SEQUENCE) | No. of Questions | Maximum Marks | Time allotted for each test (Separately timed) |
| General/ Financial Awareness | 50 | 50 | 35 minutes |
| General English | 40 | 40 | 35 minutes |
| Reasoning Ability & Computer Aptitude | 50 | 60 | 45 minutes |
| Quantitative Aptitude | 50 | 50 | 45 minutes |
| Total | 190 | 200 | 160 minutes |
Now, looking into the exam pattern, we can clearly see there is no need of  "Time Management" in the examination. Time is already allotted to you guys so it is up to you how you will utilize the time.
Before that, we would like to list the most important chapters, and how to prepare.
General and Financial Awareness
Although we will be giving you a detailed plan to score 40+ in 50 in the general awareness section, today we will be sharing a gist of that article as it falls under the detailed plan.
General Awareness in IBPS Clerk Mains 2017 is expected to be 50-50 based on Current Affairs + Banking & Stock GK. Which means, you need to read current affairs along with in detailed banking awareness.
One of the crucial thing in Banking Awareness is the functions and products of the banking sector.
Now, let's see the important things you need to prepare. Please note, we will give you a General Awareness Checklist before the exam so you can score maximum.
Important things you need to study:
Current Affairs from November 1 to January 10, 2018
Banking Functions, Products
Important Banking Terms (FPI, FDI, REPO etc.)
Banking Apps, Schemes and Products launched in the past 4 months.
GK related to Indian Festivals, Indian Palaces, Forts, Dams
Cities on the banks of river, river passing through various states
Stadiums, Airports, National Parks, Sanctuaries.
English Language
English is really a crucial subject in any exam or in phase nowadays. The most important things in English are Grammar and Vocabulary. Now, one thing you need to be very aware of, is that Grammar and Vocabulary are interrelated. If you need to construct a sentence, you will be needing both Grammar and Vocabulary.
In order to place Vocabulary in the correct place, you will need grammar and vice versa.
Important things you need to study:
Grammar related problems, errors, cloze test etc.
Single Fillers with multiple words
Multiple Fillers with multiple words
Cloze Test – picking the correct word
Cloze Test – Picking the incorrect word
Comprehension
Para Jumble – Suppose six sentences are there, 1 and 6 are fixed or just 1 is fixed and you need to rearrange the rest.
Vocabulary based problems
Following chapters you can ace with grammar:
Sentence Correction
Multiple Error Correction
Cloze Test (where Preposition, Verb etc. is needed)
Sentence Rearrangements (Grammatical sense will help you to arrange faster)
Following chapters you can ace with Vocabulary:
Synonym-Antonyms (Obviously right?)
Fillers – All type
Cloze Tests
Quantitative Aptitude
One thing you need to keep in mind that IBPS Clerk Mains 2017 will have Quantitative Aptitude not Numerical Ability.
Quantitative Aptitude is about comprehending the problem and solve it while Numerical Ability is all about calculation.
So you need to expect Quantitative Aptitude to be calculative and quite confusing. You will need to COMPREHEND the Problems and then solve them. Which is sometime confusing.
Important things you need to study:
Profit & Loss problems
Average Problems
Compound Interest Problems
Age Based problems
Time & Work problems
Data Interpretation – All type (2 or 3 Data)
Mensuration and Geometry based problems
Probability
Reasoning Ability & Computer Aptitude
In the last few days we have received too many queries on the Computer Aptitude part. One thing which everyone have seen in the last few exams, IBPS PO Mains (2017), SBI PO Mains (2017), there was NO COMPUTER APTITUDE PROBLEM. However, you can take "New Coding Decoding", "New Input/Output" as a part of the Computer Aptitude portion.
You need to focus on Reasoning Ability mostly. If you see, Reasoning is carrying more marks than every other section. Which clearly indicates that you should prepare for a tough Reasoning test. So what exactly you need to do in IBPS Clerk Mains 2017 Reasoning?
You need to make sure you are totally prepared in Reasoning. You cannot guesswork in Reasoning and here you will need to spend time properly. In this section, Puzzle is extremely important. The faster you can comprehend, the faster you can solve puzzles.
Important things you need to study:
New Coding-Decoding
New Input/Output
Old Pattern Problems
Reverse Syllogisms
Statement & Assumption, Courses of Action
Overall you need to be prepared for ALL THE THINGS! In RBI Assistant Mains, there was nothing NEW, and even more surprisingly, there were  "old pattern" questions.
So, you need to be prepared for all type of questions. Time management will be a key for Quantitative Aptitude and Reasoning section.
Make sure you cover each and every chapter along with the Important things you need to study, which we gave per test.
All the best.
We will roll out more articles on IBPS Clerk Mains 2017. The Magazine will also be available from 11-12 January, 2018.
Install our official App – Click to Install
Regards
Team EP
We are sorry that this post was not useful for you!
Let us improve this post!
Tell us how we can improve this post?