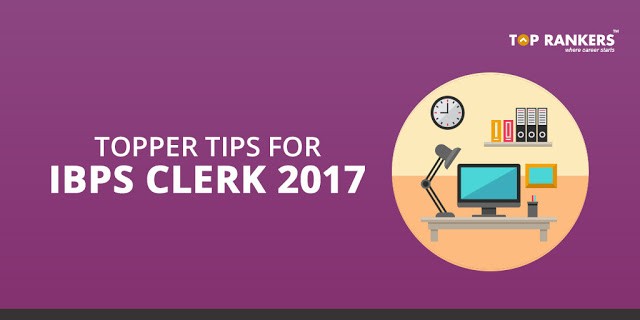 Bank examinations are chosen by most of the youngsters who have
completed their graduation, post-graduation and some working professionals who
wish to take a different route from their regular work environment, which
includes software professionals. This is because Bank jobs promise a secure
future, when compared to other private firm jobs.
In this session, we will give brief about IBPS Clerk topper tips.
Preparation for the IBPS Clerk
2017 has to start from the moment the date of the exam is announced. Every
competitive exam or a job oriented exam requires suggestions from the experts,
mentors as well as the toppers from the previous years. Each topper would have
their own preparation strategies and method to prepare so the aspirants of IBPS Clerk 2017 get more ideas on
setting their preparation plans and study accordingly.
Coupon Code: You May use
Coupon Code "EXAMPUNDIT" to Avail 10 % Instant Discount.
IBPS Clerk topper tips
play a very significant role as it will be
based on each section from the
IBPS
Clerk
exam. Each topper will share the difficulties they faced in solving a
particular section and how they finally scored high in it. These toppers have
one common suggestion to give the aspirants; be confident and give the best
performance possible. Another very important and effective tip given is to
practice maximum number of
online IBPS Clerk test series
to analyze the weak areas and improve
them.
Let us look into the topper
tips for IBPS Clerk.
As quoted by Priyanka Ravi, one of the toppers of IBPS Clerk, "Success does not come to you, you go to
it." This topper had an engineering graduation in the background. Her
strategy was to score well in sections like English, Computer Knowledge and Reasoning, as she was good in these
areas. She aimed in scoring 95% in these sections so as to compensate in other
two sections. She added that she had a stressful time in preparing as she was
working and she could not quit the job. She kept a tight study time of 2-3
hours during weekdays and dedicated the whole day during weekends to prepare
for the exam.
The new pattern enabled to face any competitive exam by improving the
Aptitude Skills. As the prelims approached she had focused only on the
Aptitude, Reasoning and English without wasting time looking into General
Knowledge and Computer Awareness sections. Preparing and taking prelims gave more
confidence to attempt the Mains. Hence, it is important that you give equal
concentration for both the Prelims and the Mains.
Coupon Code: You May use
Coupon Code "EXAMPUNDIT" to Avail 10 % Instant Discount.
There were different strategies for each sections sect by this topper.
English: Practice tests help in understanding the places you would go in
Grammar; also getting to know new words thus training to guess the meaning of
the word based on the context in the paragraph. Read IBPS Clerk English Tips
Quantitative Aptitude: If you are weak in this section, you need to refer different books
from various coaching centers and prepare own notes from each topic so the
shortcuts could be revised a days before the exam.
Reasoning: The topper has suggested learning once
and practicing more for this section.
The most important things you need to focus on are the Speed &
Accuracy. For improving speed in solving, it would be ideal if you find certain
shortcuts to solve problems which are time consuming.
Computer Awareness: It is important to refer previous year's
question papers. If you attempt 4 exams, it will be much easier to know what
type of questions will be asked in the upcoming exam as they will be repeated.
You can easily score 100% in this section after attempting 2-4 exams
consecutively.
General Knowledge & Current Affairs: To get well-versed with GK & Current Affairs, it is suggested
that you could refer certain websites providing related materials it would be
more than enough if you score 90%. One needs to read these materials about 4-5
times in case of Static G.K such as the country capitals, currencies and
banking terms. In the case of Current Affairs, if the exam is scheduled for
December, it will be enough if you refer the Current Affairs of October and
November.
According to the topper, attending regular coaching surely will be of
great help. However, if you cannot afford these regular classes, you could
borrow materials from aspirants and also refer online materials.
For practicing and mock tests, you could check for some websites related
to
IBPS Clerk
exam. You could get a lot of
IBPS Clerk mock test
which gives the Real exam feel.
In case of books, try to get previous years' question papers, more
preferably the solved ones. It should be observed that the type of questions
asked in every exam is different. IBPS
Clerk exam is quite different from the RBI Assistant and hence the
preparation should be focused to attempt each exam in a different way.
Reviews:
Hope this session on the topper
tips for IBPS Clerk exam gave you adequate information on how to prepare
each section. Use every bit of the suggestions, set the right strategy to make
the preparation effective.
Coupon Code: You May use
Coupon Code "EXAMPUNDIT" to Avail 10 % Instant Discount.