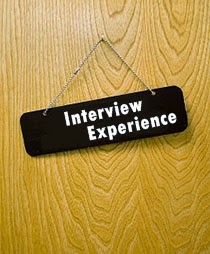 Hello and welcome to ExamPundit. Here is a IBPS Clerk IV Interview Experience held on 14th Feb, 2015. The experience shared by Umesh Kumar from Lucknow.


Name- umesh kumar
B-Tech(CSE)
Cat – General
Attempt-163
Interview location- grand jbr hotel Lucknow
Panel no.- 4


As the timing was 1 pm so I reached the venue at 12-45.,& I saw that the document verification already starded. And then he announced my name for document varification the process takes hardly 15 min. And then he send me to the second floor where the interview is taken. My turn is 10. The guy with no.9 was little bit nervous. And I hear from outside the room that they give him a glass of water for cool his mind.


And finaly the bell rung and my turn came. There are 5 interviewers 4 male and 1 female.
Me- May I come in sir
M3(chairperson)- aayo aayo
Me- Good afternoon mam gud afternoon sirs
And then the first question came from m3 that what is your height (as I m too long 5feet 11 inch) – I became nervous and said 6 feet 7 inch sir.
M3- itne lambe to ni ho.
Me- sory sar 5feet 6 inch
M2- so what your father do.
Me- employee in Delhi jal board
M4- Delhi m pani kahan se aata h
Me- yamuna se filter ho kr
M4- or kahan se aata h
Me-pta ni
M4- are tumahare papa jal board m h pta hona chaheye…..haryana se ni aata…..aacha haryana Delhi ko pani q deta h
Me – haryana m jyada pani h isliye
They all laughed…..
Then m3 asked….Delhi m kejriwal ki sarkar se tumahare papa dukhe h ya khus h ….
Me- khus h q ki vo congress supporter hain F1….ha g congress wale to sabhi aam aadmi ki taraf h an
M2-…atm kese kam krta h
Me-…..explained
M2-..CPU kya hota h ….
Me-…explained
M3-….keyboard ka kya function hota h
Me-…explained
M3-…priority sector landing kya hote h .
Me …exlained ..
M1 -…NPS KYA HOTA H
Me (don't know but said) non priority sector
M1-….kejriwal ke manifesto m kya h
Me ….explained some points ..
M3….OK umesh you can go now ….
Me-…thanku sir
And bahr aa gya
That was my interview



Thats all guys!! Thanks to Umesh Kumar for sharing his Interview Experience of IBPS Clerk 2014.


If you have your story to share then mail us at [email protected] or message us on facebook.

Regards
Team ExamPundit