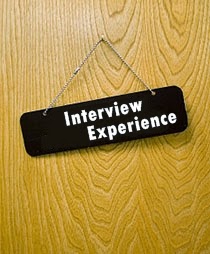 Hello and welcome to ExamPundit. Here is an interview experience of IBPS Clerk 2014 shared by Saurabh Verma from Kanpur, UP.
My interview date was 11th February, 2015.
My interview timing was on 8:30 am.
My document verification happened around 10:20 am.
After that my interview started around 11:30 am.
5 members were there – 4 male,1 female


During document verification they told us to write a paragraph in Hindi. Which we have to copy from a newspaper. It went very well.


They asked me questions related to commerce like:
Difference between fixed and variable cost
What comes under Current Assets
Contagious Liabilities
Operation Cycle


After that asked my family background as my brother is in bank.
He has been posted in Rural Areas, so questions regarding that.
Like rural areas banks earn revenue from what?
How does Banking Facility Provided in Rural Areas?


After that one member asked me –
Difference between post office and bank.
who received Bharat Ratna.
I answered them.
Then,



Who is Madan Mohan Malaviya


As Punjab National Bank is my first preference, they asked me
Why PNB?
Who is the founder of PNB?


Then some questions related to my hotel management background.
Thats it. This time aapko hindi me ek paragraph likhne ko bola jayega.
One of them (interview panel members) also there during my po interview.
He said I have seen you before Have you cleared IBPS PO? Then he said very good






That's all guys! Thanks to Saurabh for sharing and all the best.


You can share your experience at [email protected] or message us at Facebook.






Regards
Team ExamPundit