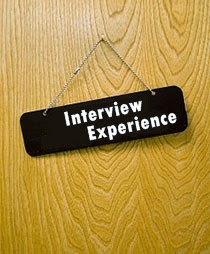 Hello and welcome to ExamPundit. Here is an Interview Experience from 13th February, 2015 of IBPS Clerk IV. The Interview Experience is shared by Anjali from Bhopal.



Hello Everyone ,This is Anjali . I've been called for Ibps clerk interview on 13/02/2015 in the afternoon session Here is My Review.


I reached the centre at 12.30 pm and as soon as I reached They gave us a white sheet and told us to write any thing in our regional language.,After That verification process started


Documents Needed:
Interview call letter
Application print out
Identity Proof
Mark Sheets
Degree certificate/Passing certificates
Caste certificate if applicable
Work experience
White paper filled with a paragraph in local language




After Smooth document verification. My turn came around at 1:50 pm. They called me and I went inside asking permission.


After the greetings, they told me to sit down, The panel had 4 Male Members and 1 female member.
M1- So Ms.Anjali U Have done MBA in HRM and Finance…Both ..So kya pucha jaye aapse..
Me: Anything Sir…
M1- Tell me what u have studied in HRM?
Me. Explained in detail
M1-What is Attitude?
Me- Answered
M2- Do U know anything about teamwork?
Me- yes sir. I have studied about it during my MBA
M2- Please shed some light…
Me- I tried to explain as much as I can .. and they were looking satisfied with the answer
M3- Siksha ke chetra main Kya development hua hai.. any schemes?
Me- Told them about sarva siksha abhiyan
M3- Tell me some thing about Mid Day Meal?
Me- Explained
F- Tell me ur 3 qualities and 3 weaknesses?
Me- answered in details.coz it was all about me.. when I told them that sometimes I speak too much coz of overflow of thoughts .they all started laughing and told me u r very honest..
F- What is Customer Satisfaction?
Me- Answered
M1- Tell me the difference between A Leader And A manager.?
Me- Somehow managed bcoz he asked me to give my answer in one line.
M2-Ok Anjali thank you so much .u can go now
I thanked them all before leaving and I came out of the room.




Interview went around 10 to 15 min. they asked all the questions in local language only .All the panel members were smiling during whole interview .


Overall it was an amazing experience for me.. I Hope this would help the other candidates who are going to appear for the interviews.




Tips:
Regional language knowledge is must .
Be Precise
Go with positive attitude ,because they are not concerned about the facts .they just want to judge ur attitude and confidence or how u r handling the questions
Don't try to confuse them, Simply say sorry if you don't know any of the questions.
Most Important..SMILE PLEASE…


Thank You So Much ExamPundit .ALL THE BEST TO EVERYONE






That's all guys. We wish her all the very best and thank you Anjali for sharing the experience.




If you have want to share your Interview Experience then mail us at [email protected] or message us on Facebook.


Check Out the Other Interview Experience:


From Kanpur:


https://www.exampundit.in/2015/02/ibps-clerk-2014-interview-experience-saurabh-verma-kanpur.html


From Kolkata:


https://www.exampundit.in/2015/02/ibps-clerk-2014-interview-experience-jeet-Kolkata.html


From Guwahati:


https://www.exampundit.in/2015/02/ibps-clerk-2014-interview-experience-manjita-endaw-guwahati.html




Our IBPS Clerk 2014 Interview magazine is FREE!! and GOOD!!


Click Here to Download >>




Here are some last minute suggestions for IBPS Clerk 2014 Interviews –


https://www.exampundit.in/2015/02/last-minute-suggestions-for-ibps-clerk-2014-interview.html






Regards
Team ExamPundit