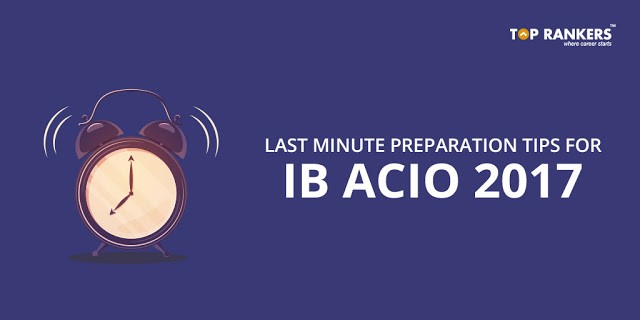 IB
ACIO 2017
Last Minute preparation Tips
–
Dear Aspirants, as you all are aware that IB ACIO 2017
exam is around the corner and with 4 days remaining for the exam, it is the
high time to brace yourselves and start brushing all the preparation that has
been done by you in last few months. This year, a total of 1430 candidates are
supposed to fill. In this article, we are going to share the most important
last minute tips to prepare for IB ACIO 2017. These tips will help you ace the
exam even though you have not started brushing up with your preparation.
Last
4-5 days are very crucial for any candidate before attempting the exam. In
these last few days, you need to revise and brush up all the knowledge that you
have gained while preparing for the exam.
First
of all, let's take a quick review of the
IB
ACIO 2017
exam pattern and marking scheme:
Coupon Code: You May use
Coupon Code "EXAMPUNDIT" to Avail 10 % Instant Discount.
No
marks would be awarded for an un-attempted question.
Only
the candidates who have cleared their Tier-I exam would be called for Tier-II
exam


There would be a minimum cut off
marks of 33% for Tier-II examination


Note–
You can opt for the test English as well as in the Hindi language
as per your convenience except English language test.
IB
ACIO is going to be conducted in three stages: Tier 1, Tier 2 and Interview.
Read
the important IB ACIO 2017 Last Minute Preparation Tips in this article.
Around
80% questions of IB
ACIO Exam Question Paper-I consists of General Knowledge, General
Awareness, General Study, General Science, Geography and Indian Politics. Let
me tell you, IB ACIO Exam is as simple as your school and college exam. Little
hard work + Practice and you can easily crack the exam.
Learn
all important GK, GA, GS, History and Science.
Practice
for basic Mathematics like – Average, Profit and Loss, Simple Interest etc.
Go
through the current affairs 2017.
Try to manage your time judiciously, you have
100 Minute to answer 100 Objective questions and an essay of 400 words.
Start
practicing for Question Paper-II and Practice to write some essay on recent
topics.
Allot
at least 25 minutes to write paper-II i.e. an Essay.
Once
you are done writing an Essay, go through it once and correct it if it
requires.
Before
you start answering for Paper-I objective question, have a look on the Essay
topics options and decide your topics.
No
need to hurry while you write Essay, write it neat and clean and just do your
best!
Keep
a good focus on Polity.
Revision
is important to retain the concepts learnt. It's also important that you practice mock tests
after revising each topic to master it. Try not to learn something
new in the last days. Make sure you have revised each and everything you have
learnt up till now.
Focus
on negative words like "not", "none", "un". These words sometimes remain unread
in hurry but leave an impact resulting in a negative score. Just read every
Question carefully.
Learn
List of formulas for topics like Interest, Percentages etc.
Try
to find shortcut Tricks on topics like Cube Roots, Squares, Simple Interest and
Compound Interest, Percentage, Time & Work etc.
For
Usual Reasoning Questions like Directions, Blood Relation etc. Make sure you
have an accurate understanding of Directions and Blood Relations.
Keep
yourself updated with what is going around, i.e., focus on current affairs
Go
through previous year Question Papers and try to derive a pattern of topics
that are repeated every year. This will give you an idea about the important
topics and help you in setting the priority.
Focus
to try on Economics topic.
Try to gather the questions which are asked in the section.
Try
to grab difficult questions first as the questions in IB
ACIO Exam are usually tricky, so if you have a good hold over difficult
questions, you will be easily able to solve easy ones further.
Coupon Code: You May use Coupon Code
"EXAMPUNDIT" to Avail 10 % Instant Discount.
IB ACIO Examination Hall Tips
It
doesn't matter how well you've prepared for any particular section if any
question is taking your time immediately skip that question.
Keep
in mind all questions consist only 1 mark. Play smartly don't waste time on one
question.
Manage
your time smartly in each section.
Try
to attempt all question. Who knows last question will be easy and scoring.
Choose
the questions smartly, difficult questions are meant to skip only.
Few
questions are easy but time-consuming, don't waste your time being foolish
stubborn. Remember those question will take time of 4-5 questions but give only
1 mark. Skip those speed breakers hurdle.
Last
but not least, SAY NO TO WILD GUESS.
If
you didn't comprehend the question within 10 seconds then mark the question for
review or skip the question.
We hope that the above mentioned last minute tips for
IB
ACIO Exam
has helped you to brush up your preparation in the last few days.
All the very best for your exams!
Coupon Code: You May use Coupon Code
"EXAMPUNDIT" to Avail 10 % Instant Discount.