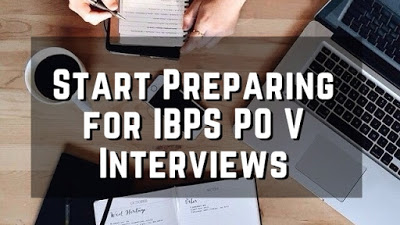 Hello and welcome to ExamPundit. So, everyone is asking about the IBPS PO V 2015 Interview. What
to study? How to study? What are the important topics you need to study?
We will be answering all of the questions and will give you
a heads up regarding the Interview Preparation of IBPS PO V.
What are
the topics you need to prepare?
1) Your Academic Study Materials
2) Banking Awareness including Terms and Operations
3) Social & Economic Current Affairs
4) Neat Answers for Generic Questions
From Where
to Start?
Well, it will depend on person to person. Since there are 4
topics you need to focus right now, many aspirants might have a grip in one or
two or more than that. So, you need to find out which of the above mentioned
topic you need to brush up first.
In case you are out of touch with Current Affairs, then
start with current affairs. In case you are out of touch with your academic
study materials, then don't waste time and start studying the basics(We often
fumble in the basics).
Now, Once you have kicked off the with the out of touch
topic, add the one in which you are most confident about.
For eg. If you have not revised Current Affairs but you have
been preparing Banking Awareness lately, then start off with Current Affairs
and then add the Banking Awareness along with it.
This will help you learn faster by maintaining a balance. Then
start preparing the remaining topics.
What to
study in Social and Economic Current Affairs?
You need to study some of the major but non-controversial
topics from September to 5 days before your interview. For eg. Greek Economic
Crisis, Europe Refugee Crisis, India-Nepal-China Problems, Paris Attacks.
We will be providing a pdf containing Top Current Affairs
Which will be needed for IBPS PO Interviews.
What
Exampundit.in will provide?
1) Banking Awareness Materials
2) Current Affairs PDF
3) Interview Session – Live Q&A –
6 Session of Different Topics
All the best. Study hard. May the Force Be With You.
Regards
Team ExamPundit
Sponsored

(adsbygoogle = window.adsbygoogle || []).push({});
Books For 2015 Banking/Insurance Exams