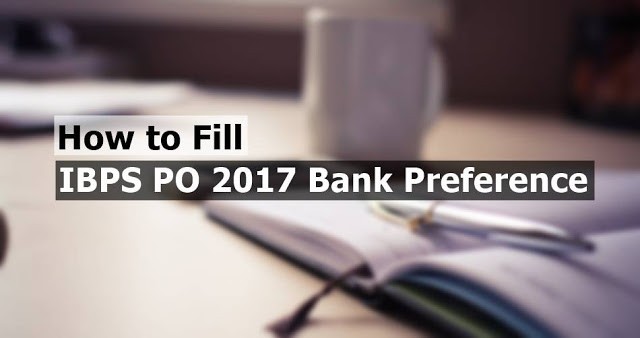 Dear Aspirants,
Today we will be sharing how to
fill the bank preference for
IBPS PO 2017
examination. In the following
article, we will brief guide you with various parameters so you can easily
prepare your final preference list.
The preference list is to be
chosen in decreasing order of priority. The banks you mention at top of the
list are considered as top priority and the banks at the bottom are least
priority.
Here's a list of participating
banks and their respective vacancies across categories: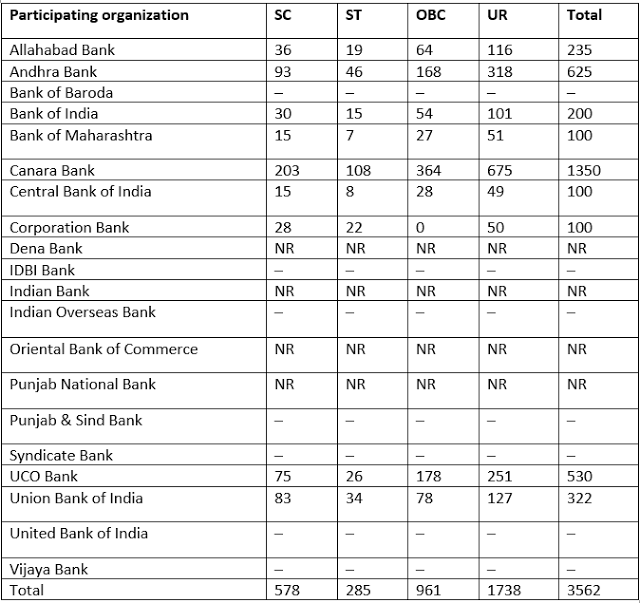 At first make a list of what you
want from the bank you want to work in. For example, you might want to get
posted in your hometown, or somewhere nearby and work for a bank that offers
good work-life balance, etc. After that, list down the banks that match your priorities.
Things to consider to before
choosing your preference for
IBPS PO 2017
:
Bank location
The first and foremost thing an
IBPS PO Aspirant should consider is the bank's location. If you want to work in
a particular region, check out the banks that are headquartered in your
preferred region & simply list them accordingly.
Banks having headquarters in a
state/city tend to have more branches in that state/city and has maximum
presence in that state/city.
For example, UCO bank has its
headquarters in Kolkata. So, choosing UCO bank automatically increases your
chances of getting posted in Kolkata or West Bengal or somewhere in Eastern
India.
Following is a list of the
participating banks and their respective headquarters: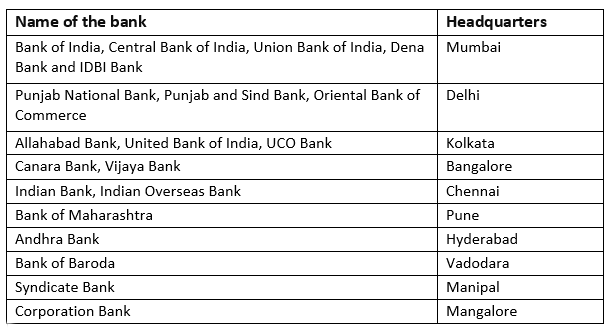 Following is a list of regions,
and banks that are most likely to post candidates in that region:
North India: Delhi, Punjab, UP, Uttarakhand, J & K, HP,
Haryana, Rajasthan
BOB, PNB, Oriental Bank of
Commerce, Allahabad bank, IDBI Bank, Punjab & Sink bank, Canara bank
East & North-East India: Odisha, WB, Bihar, Jharkhand, Sikkim
Allahabad bank, PNB, BOB, UCO
Bank, United Bank of India, Canara bank, Union Bank, Bank of India
West and Central India: Maharashtra, Gujarat, MP, Chhattisgarh, Goa
BOB, IDBI Bank, Dena Bank, Bank
of Maharashtra, Canara Bank, Central Bank of India, Indian overseas bank,
Corporation bank
South India: Andhra, Karnataka, Telangana, Tamil Nadu, Kerala
Canara Bank, Vijaya Bank, Indian
Bank, Indian overseas bank, Andhra bank, Corporation bank, Syndicate bank
Transfers
Usually if a bank has more
branches, the frequency of the candidates getting transferred is more.
Therefore, if you aren't looking for frequent transfers, choose accordingly. Those
who are comfortable with frequent transfers, some banks allow you to choose the
place of posting, however some don't; some banks post you in rural as well as
urban areas and some post you only in urban areas. Therefore, we suggest you go
through transfer policies of banks before choosing your preference.
Salary structure, promotion policies and work culture
Most banks follow similar salary
structure, and promotion policies and have similar responsibilities for
probationary officers. However, there are slight variations in them. For
instance, getting posted in rural areas could mean lesser HRA than those posted
in urban areas or metros. This could impact your gross salary.
We suggest you talk to employees
working in these banks and get an honest feedback before deciding your
preference list. Ask them about the work culture, promotion policies, and
career growth.
Note: We suggest you don't consider vacancies while deciding your
preference list. Regardless of the
vacancies, you will be allotted based on your merit and preference. The
banks that haven't yet reported the
vacancies (NR) and the banks that have said they have no vacancies (NIL), could
at any time during the recruitment process announce their vacancies.
Suppose a bank you want to work
with has not reported vacancies and you place this bank lower in your
preference list. If the bank announces its vacancies before you get placed,
there are chances you will get placed in a bank which you placed higher up in
your preference list and not the bank you want to work with, even though you
have cleared that banks cut off.
Therefore, we suggest you to not
base your preference on vacancies and regret it later. Consider the
location/region of the bank, work culture, transfer policies, etc.
In the end, the allotment will be
based on your preference, overall marks in mains and interview. However,
preference list plays a major role in your allotment too. Therefore, decide
your preference order after careful consideration of the above parameters.
Note: The above tips and strategy on how to choose your bank
preference is only a guideline and doesn't reflect any kind of bias or bank
preference or priority order. Use this only as a guideline to arrive at your
own preference list of banks.
All the best!
This Article was provided by Oliveboard.
Regards
Team ExamPundit