Hello and welcome to exampundit. SBI Clerk 2018 will commence from 23rd June, 2018 with the preliminary phase of examination. So, you have more or less 28 days in hand. Today we will be sharing a study plan on how to crack SBI Clerk Prelims 2018.
The plan will be having Important Chapters, Tips & Do's and Don'ts for the upcoming SBI Clerk prelims 2018.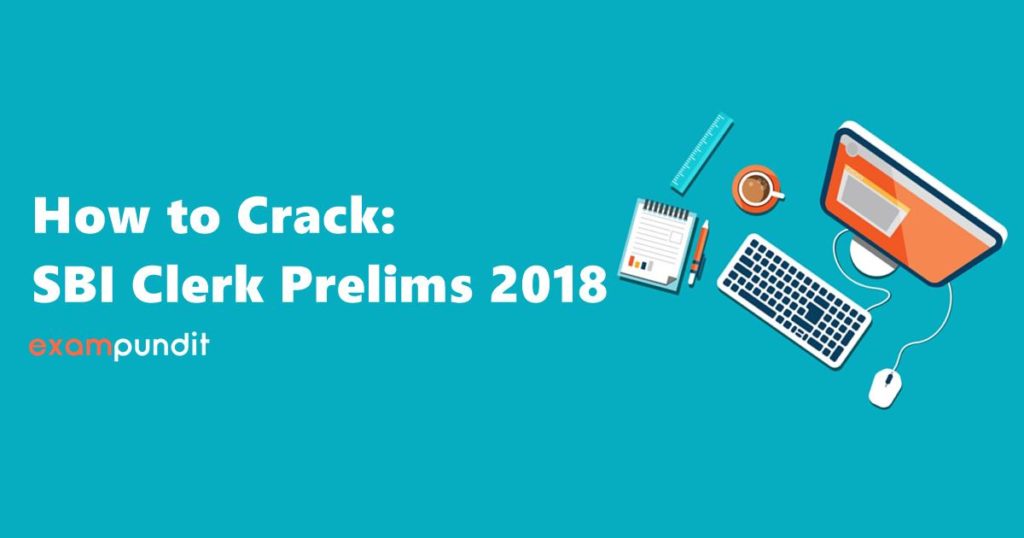 How to Crack SBI Clerk Prelims 2018
First things first, you need to make sure your basics are clear. We strongly recommend you to revise & review the basics of every chapter of Quantitative Aptitude, Reasoning Ability & English language.
In this period, you will be clearing all the doubts and improve all your concepts. One of the things you should know that Bank Examinations don't have a specific syllabus for the subjects. So you have to prepare each and everything to make sure you can attempt maximum.
Now, once you have cleared all the basics, you have to focus on improving and excelling important chapters for SBI Clerk Prelims 2018.
Important Chapters for SBI Clerk Prelims 2018
Reasoning
Puzzles (Floor, Row, Date, 4 Variables – Most important)
Seating Arrangements
Syllogisms
Blood Relation Problems
Direction Based Test
Numerical Ability
Approximations
Data Interpretation (Table, Graph & Pie Charts – Most important)
Profit & Loss
Average
Compound & Simple Interest
Age Based Problems
Time, Work & Distance
English Language
Error Correction – Various patterns (new)
Comprehension
Cloze Test
Fillers (New Type)
Sentence Connectors
These are important chapters but there can be questions from other chapters too. That is why at first we asked you to cover all the chapter thoroughly so you don't panic in the exam hall.
This year, among the changes in SBI Clerk, one of the most important is Sectional Timings for Prelims. Which means you do not need to worry about attempting and maintaining a time for each section.
We will list the Pros & Cons of Sectional Timing within a day or two.
How to Crack SBI Clerk Prelims 2018 – Subjectwise Tips
Numerical Ability
Numerical Ability is different from Quantitative Aptitude. How? Numerical Ability is calculation based while quantitative aptitude is both calculation and comprehension based.
You need to have speed in order to score maximum in Numerical Ability. Improve your speed by solving Approximations and Word Problems as much as possible. We regularly provide quiz based on examinations which you can try.
English Language
English is all about Grammar in Prelims exam. In order to ace the examination you need to make sure you have a solid grip on grammar.
On the other hand, Vocabulary is extremely important for Fillers, Comprehensions.
Make sure you have done your home work on Phrasal Verbs, Idioms & Phrases and Vocabulary.
Don't guesswork in English since it can damage your score severely. You have 20 minutes for English which gives you time to read, think and then go for the options.
Read plenty of newspaper to improve your comprehension skills as well as other stuffs. We have earlier told you the important newspapers for Bank PO Exams.
Reasoning Ability
Over the past 2 years, Bank PO & Clerk exams have all about been Puzzles. So if you ask us How to crack SBI Clerk Prelims 2018? Our answer will be simple. Do a lot of Puzzles. Yes. If you want to score good in reasoning, practice a lot of Puzzles.
Good grip on relation and direction based problems really boost your puzzle abilities. In order to excel in Reasoning, make sure Puzzles are your weapon.
If you have come so far reading this article, thank you! You have a lot of patience and patience is one of the keys to success.
How to Crack SBI Clerk Prelims 2018 by Mock Test
In order to improve your accuracy and speed (sectional), you need to give Online Mock Test. Book & Pen preparation neither going to increase your speed nor your accuracy. So, to improve your accuracy and speed, give a mock test at least 5 days a week.
We are listing down 4 Free Mock Tests which are extremely good in terms of standard.
Free Mock Tests for SBI Clerk Prelims 2018
Toprankers – Click here to take a Free Mock
Oliveboard – Click here to take a Free Mock
Gradeup – Click here to take a Free Mock
PracticeMock – Click here to take a Free Mock
Concluding we would like to tell you once again, clear your basics, improve your accuracy and make sure you practice a lot of problems.
All the best.
May the force be with you!
Regards
Team Exampundit