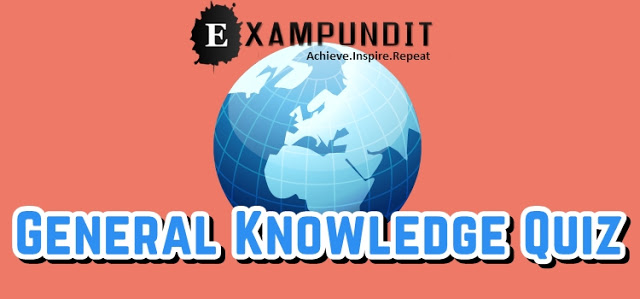 Hello and welcome to ExamPundit. Here is a set of General Knowledge Quiz for SSC CGL and RRB NTPC 2016 based on Indian Polity. This quiz is shared by S Dixit, if you want to share your own quiz, you can mail us at [email protected] and after 10 sets published by you we will make a dedicated page for you.







Rules:
Post answers according to the following format(s)
1-2
2-3
3-4
Or
12345
54213
In case the options are ABCD, use the Appropriate Options.
Do Not Rectify anyone.
If you have any doubt regarding any question of the quiz, kindly ask after the quiz is over i.e answers given.
Do Not CHAT here. If you have any query, use today's Ask The Mentor Page.
At least 10 Attempts for Scores.

Exampundit.in reserves the right to choose winner or give scores.
1. When was the constitution of India
passed by the constituent assembly ?
(a) January 26, 1950
(b) November 26, 1949
(c) August 15, 1947
(d) January 26,1949
2. The ________ is superior to all
other laws of the country
(a) enforcements
(b) constitution
(c) Acts
(d) Undertakings.
3. Raja Chellayya Committee dealt
with ________.
(a) tax reforms
(b) fundamental rights
(c) education
(d) social issues
4. On whose recommendation was the
Constituent Assembly formed?
(a) British government
(b) Princely states
(c) Cabinet Mission
(d) None of the above
5. Name the article which empowers
the President to appoint the Prime Minister of India.
(a) Article 19
(b) Article 75
(c) Article 86
(d) Article 95
6. What is contained in the Tenth
Schedule of the Constitution?
(a) disqualification of membership
on grounds of defection
(b) citizenship
(c) directive principles
(d) impeachment
7. How many methods of amendment of
different provision of constitution are prescribed in the Article 368 of the constitution?
(A) 4
(b) 5
(c) 3
(d) 2
8. The provision of single
citizenship in our constitution is borrowed from the
(a) UK
(b) USA
(C) Germany
(D) not borrowed
9. Which one of the following is
called mini constitution?
(a) 44th amendment
(b) 43rd
(c) 37th
(d) 42nd
10. Which part of the constitution
deals with Directive Principles of State Policy ?
(a) Part VII
(b) Part V
(c) part iii
(d) part iv
11. The Rajya Sabha held its first
sitting on ……………
(a) 13 May 1952
(b) 26 jan 1949
(c) 15th august 1947
(d) none
12. In the history of Indian
Parliament how many times have the joint sessions of the Parliament took place?
(a) 4
(b) 3
(c) 7
(d) never
13. Who is the first legal officer of
the Govt. of India ?
(a) Attorney General of India
(b) The judge of supreme court
(c) the president
(d) Prime minister
14. Effective Majority of house means
more than __________ of the effective strength of the house
(a) 50%
(b) 35%
(c) 75%
(d) 5%
15. Which president of India died
while in office?
(A) Zakir Hussain
(b) V.V. Giri
(c) Dr. Rajendra Prasad
(d) Giani zail singh
Winners:
Azad
AMI SOURAV
Chip n Dale


Regards
Team ExamPundit
Sponsored

(adsbygoogle = window.adsbygoogle || []).push({});