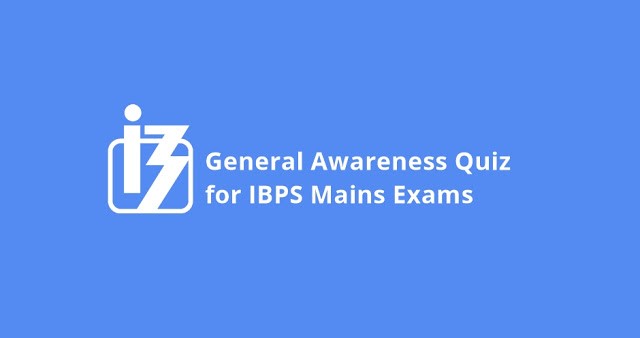 Hello and welcome to exampundit. Here is a set of General Awareness Quiz for IBPS Mains Exam 2017.
1. The aggregate exposure of a lender to all borrowers at
any point of time, across all P2Ps, shall be subject to a cap of ________.
(a) ₹5 lakh
(b) ₹10 lakhs
(c) ₹25 lakhs
(d) ₹1 lakh
2. How much amount of loan did New Development Bank recently
approve for Madhya Pradesh's MultiVillage Rural Drinking Water Supply Scheme
Project?
(a) US$ 470 million
(b) US$ 450 million
(c) US$ 430 million
(d) US$ 570 million
3. Union Minister for Road Transport and Highways Nitin
Gadkari launched first batch of 1000 E-rickshaws 'SmartE' in __________.
(a) Bengaluru
(b) New Delhi
(c) Noida
(d) Gurugram
4. National Aluminium Company Limited is headquartered in
which of the following city?
(a) Ahmedabad
(b) Kolkata
(c) Bhubaneswar
(d) Raipur
5. The Union government has constituted a high–level
committee for proper management of the water resources in the North Eastern
Region (NER). The committee would be headed by __________.
(a) Jitendra Singh
(b) Kiran Rijuju
(c) Amitabh Kant
(d) Rajiv Kumar
6. Indian Railways on 13 September 2017 permitted passengers
to show m-Aadhaar, digital version of the Aadhaar card, as proof of identity.
In which of the following class it is not applicable?
(a) AC 2 tier
(b) AC 3 tier
(c) Sleeper Class
(d) None of the above
7. Who among the following launched Mata Amritanandamayi
Math's Rs 100 crore clean water initiative for rural India?
(a) Venkaiah Naidu
(b) Narendra Modi
(c) Ram Nath Kovind
(d) Sashi Tharur
8. Hindusthan Copper Ltd. is headquartered at _________.
(a) Kolkata
(b) Vishakhapatnam
(c) Ranchi
(d) Patna
9. According to the RBI guidelines, the exposure of a single
lender to the same borrower, across all P2Ps, shall not exceed
(a) ₹25000
(b) ₹50000
(c) ₹1 lakh
(d) ₹75000
10. Prime Minister Shri Narendra Modi led Union Cabinet has
given its nod for implementation of umbrella scheme of "Modernisation of
Police Forces (MPF)" for years 2017-18 to 2019-20. What is the project
outlay?
(a) ₹25,600 crore
(b) ₹26,060 crore
(c) ₹25,660 crore
(d) ₹25,860 crore
Get all the 40 questions in our app – Download Now!
Answers:
B
A
D
C
D
D
C
A
B
B
Sponsored

(adsbygoogle = window.adsbygoogle || []).push({});
Regards
Team ExamPundit

EP Recommends: Practicemock Free Mock Tests