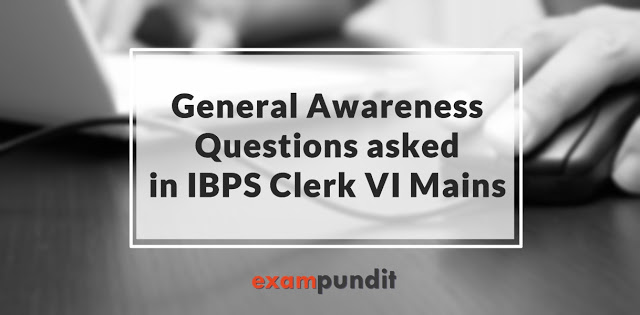 Hello and welcome to exampundit. So here are the General Awareness Questions asked in IBPS Clerk VI mains 1 January, 2017. A big thanks to our very own Ruchi for sharing all the questions!
Plenty of questions came from our Expected Questions and General Awareness Sectionals.
After sales support to customer is – B2C
Hand in Hand exercise between – India and China
One question about MMID
P in EFPOS stand for – Point
Kumarakom Bird Sanctuary – Kerala
Gobind Sagar is a man-made reservoir situated in Bilaspur
District, __________. – Himachal
Pradesh
Global Citizen Festival – Mumbai, Maharashtra
CP are issued as – Promissory Notes
145 M777 Howitzer guns deal with – United States of America
National Financial Switch developed by – Institute for
Development and Research in Banking Technology
Limit of foreign investment in universal banks – 74%
Which microfinance is a universal bank now – Bandhan Bank
Lending of RBI to commercial banks is called as – Repo Rate
International children prize to which kid from UAE – Kehkashan Basu
Example of card not present transaction – Net Banking/Phone Banking
Initially shares in RBI were owned by – private shareholders
Rabobank Headquarter – Netherlands
Theme of International Day of Persons with Disabilities 2016
– Achieving
17 Goals for the Future We Want
M. Balamuralikrishna was – Veteran Carnatic singer
LAB have jurisdiction over – 2/3 districts
Payment bank having 100% equity participation by govt – IPPB
Bollywood based theme park in – Dubai
Microcredit is a part of microfinance is a provision of – credit services to poor clients
Chairman of RBI Internal Working Group (IWG) on
Rationalisation of Branch Authorisation Policy – Lily Vadera
207 km bicycle highway in – Uttar Pradesh
RBI relaxed 2 factor authentication to OTP for payment below
– 2000
Heart of Asia summit in – Amritsar
Which is not a market risk – Specific Risk
Immortals of Meluha authored by – Amish Tripathi
International Criminal Court HQ – The Hague, Netherlands
Small financial banks have to open 25% branches in – Rural Areas
BSBDA account can be extended to how many months after
submitting OVD – 12 Months
Best performing actor at Asia Pacific Screen Awards – Manoj Vajpayee
Current and saving account that don't operate for a period
more than 2 years are called as – Dormant Account or Inoperative Account
Which ETS having hourly time – NEFT
Max loan size to single obligor can't be more than what
percent of the capital investment – ?
Micro ATMs connect via – GPRS
Web based solution for interbank n other bulk transactions –
NACH
NBFC accept deposits for a max for what period – 60 Months
Irom sharmila belongs to which state – Manipur
If you find any error you can comment below.
Sponsored

(adsbygoogle = window.adsbygoogle || []).push({});
Regards
Team ExamPundit