Hello and welcome to exampundit. Here are the GA Questions asked in RBI Assistant Mains 2017. These are shared by Vikas Pandey and Tanmay!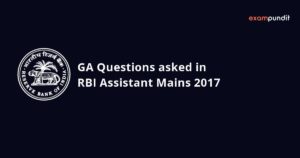 Who launched Project Nischay? – IDBI Bank
Gorakhpur is situated on the bank of _______. – Rapti River
Dudhwa National Park is located in ________. – Uttar Pradesh
Sowa- Rigpa medicine by which country – Tibet
What is the full form of BCSBI –  Banking Codes and Standards Board of India
Lalit Upadhyay related to which field – Sports (Hockey Player)
Amman is the capital city of  – Jordan
Definition of Mutilated Notes – Mutilated banknote is a banknote, of which a portion is missing or which is composed of more than two pieces.
One question related to Factoring
Gudi padwa festival celebrated in which state –  Maharashtra
2017 Noble prize in Physics won by whom – Rainer Weiss. Barry C. Barish. Kip S. Thorne.
Girija devi is associated with which of the following field – Singer
How much percent of Indian Household covered by bank accounts – 58.7%
CISF Headquarter is located in which city – New Delhi
Loktak lake is located in which Indian State – Manipur
According to which act Banks can share their dividend among shareholders? – Banking Regulation Act, 1949
Nedungadi bank in Kerala merge with which of the following bank – Punjab National Bank
Pushpagiri wildlife sanctuary is located in which state – Karnataka
National Insurance Academy in state of – Pune, Maharashtra
Who is the Finance minister (state) in Modi's government  – Shiv Pratap Shukla
The book on Hema Malini ,Beyond the dream girl written by – Ram Kamal Mukherjee
Which of the day is observed on 10th November – World Science Day for Peace and Development
In LAB , A stands for what – Area
Who is the winner of 2017 Macau Open Grand Prix Gold (Badminton) –
Full form of CFMS – Centralised Funds Management System
If you have any more GA Questions Asked in RBI Assistant Mains 2017 in your stock! Feel free to share!
Read the Exam Review of RBI Assistant Mains 2017
Regards
Team EP
Average rating / 5. Vote count:
No votes so far! Be the first to rate this post.
We are sorry that this post was not useful for you!
Let us improve this post!
Thanks for your feedback!
EP Recommends: Oliveboard Mock Tests