Hello and welcome to exampundit. Here are the GA Questions asked in IBPS Clerk Mains today 21 January, 2018. A big thanks to Shashank and VIkash Pandey for sharing the questions with us.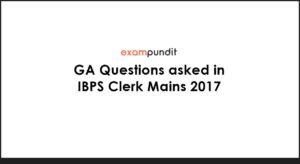 GA Questions asked in IBPS Clerk Mains 2017 (Held on 21/1/2018)
For how many years 8% Interest will be paid in Varishtha Pension Bima Yojana? – 10 years
Interest rate risk is what type of risk? – Market Risk
Initial coin offering is related to – cryptocurrency
Vienna is the capital of which country – Austria
Ukai dam situated in which state/city – Surat, Gujarat
First Indian state to start adjournment online – Rajasthan
Who is heading committee for China relationship – Shashi Tharoor
Balphakram National Park is located in which state – Meghalaya
Hand in hand Joint military exercise held between which countries – India & China
Achnakamer wildlife sanctuary is located in which state – Mungeli district, Chhattisgarh
What does A stand for in FATF?- Action
Which city has hosted the 48th Conference of Governors? – New Delhi
3rd International Conference on Yoga held in which city – New Delhi
Who is the governor of Arunachal Pradesh – BD Mishra
JRD Tata sport memorial situated in which city – Jamshedpur
Full form of LAF- Liquidity Adjustment Facility
Bharatiya Reserve bank Note Mudran press located in which cities – Dewas, Shalboni
What does P stands for in MPC? – Policy (Monetary Policy Committee)
Dhirubhai Ambani Solar Park is situated in?- Rajasthan
In Nach, "H" stands for what – House (National Automated Clearing House)
Sanjeev Stalin is associated with which sport? – Football
Who is the current Vice Chairman of Niti Aayog – Rajiv Kumar
SCO (Shanghai Cooperation Organisation) summit 2017, held in which country – Astana, Kazakhstan
Nobel Prize 2017 in Economics given to – Richard Thaler
Savings & current account is known as – CASA ratio
Who is lekh tandon – Indian filmmaker and actor
Definition of Hedging – A hedge is an investment to reduce the risk of adverse price movements in an asset
Who regulates Micro-finance Institutes in India? – RBI
Which financial institute raise capital for customers by underwriting? – Investment Bank
Benghazi port that was closed back in 2011′ was opened in October 2017 – Libya
Kisan Credit Cards cannot be issued by – Payments Bank
UCO Bank headquartered at – Kolkata
One day or overnight borrowing is called – call money
Rashtriya Chemicals & Fertilizers HQ – Mumbai
What is CRISIL?
Payment Bank cannot issue – Credit Card
NACC Last C stands for – Change, ( National Assessment on Climate Change)
SFMS – Structured Financial Messaging System
If you have any, comment below or mail us at [email protected]
Regards
Team EP
Average rating / 5. Vote count:
We are sorry that this post was not useful for you!
Let us improve this post!
Thanks for your feedback!