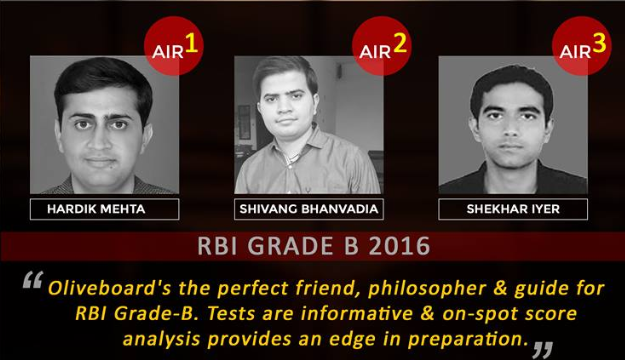 The
Top 3 All-India Rank holders of the RBI
Grade B 2016 Examination
, were
subscribers
of Oliveboard's RBI Grade B course
. What's more? Oliveboard, recommended by
most exam aspirants according to a study, is providing a
FREE Test for both Phase I & II of the RBI Grade B Exam
.
RBI Grade B is
one of the most prestigious and
sough-after exams in India. Every year, lakhs of aspirants apply for the
RBI Grade B Exam. The exam lays heavy
emphasis on the General Awareness in Phase I and Economics & Social Issues
in Phase II.
Oliveboard's RBI
Grade B course consists of the following:
10 All-India Tests for Phase I
15 All-India Tests for Phase II
[in the New & Updated Pattern]
Finance and Management lessons
for all topics with Numerical Supplement
Video lectures, Lessons, Topic
& Sectional tests for Phase I
The aspirants can enrol for any one or all of the above in
the course. For those of you who do not intend to purchase the course, we
recommend making use of Oliveboard's FREE
Tests available on their website.
Average rating / 5. Vote count:
We are sorry that this post was not useful for you!
Let us improve this post!
Thanks for your feedback!
EP Recommends: Oliveboard Mock Tests