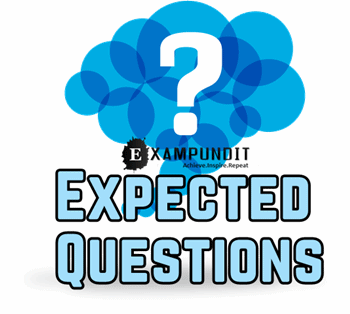 Hello and welcome to ExamPundit. Here are the Expected Questions from National current affairs in March. These questions are from March 20 to March 31.
1. Union Government
has approved what percent of reservation for women in police forces of all
Union territories including Delhi
Police?
– 33%
2. Name the newly
approved Andhra Pradesh capital city.
– Amravathi
3. What does PRAGATI
stands for?
– Pro–Active Governance And Timely Implementation
4. PRAGATI Day to be
held __________.
– Every fourth Wednesday of the month.
5. Every month on the
fourth of Wednesday it will be known as ___________.
– PRAGATI Day
6. PRAGATI is a –
– Multi–Modal E–Governance Project
7. Name the first
direct container vessel, part of a non–stop service launched to facilitate
trade between India and Qatar.
– MS Convent
8. MS Convent is the
first direct container vessel which is a part of non–stop trade service between
India and __________.
– Qatar
9. Union Government
signed up with which social network site to communicate with Citizen directly?
– Twitter
10. Name the newly
launched platform by Union Government to communicate with citizen of India.
– Twitter Samwad
11. What is the
number of Appropriation Acts intended to be repealed under Appropriation Acts
(Repeal) Bill, 2015?
– 758
12. Selling Gutkha,
or chewing tobacco was recently declared non–bailable offence by which state
government?
– Maharashtra State Government
13. India along with
which country signed an Agreement on Transfer of Sentenced Persons?
– Qatar
14. Prasar Bharti
recently signed a MoU for cooperation in the field of Radio and Television with
_________.
– Qatar Media Cooperation
15. India recently
signed six Make in India initiative focused MoU with which country?
– Qatar
16. Civil Service Day
is observed on ____________.
– 21st April
17. Name the project
which was recently launched to bring High Performance Computing (HPC)
facilities within the reach of
scientific community in India.
– National Super Computing Mission
18. What is the estimated
cost of National Super Computing Mission?
– Rs 4500 Crore
19. The National
Super Computing Mission is a __ year long project.
– 7 (Seven)
20. Union Railway
Minister Suresh Prabhu recently inaugurated Lumding–Silchar broad gauge section.
It is located in which state?
– Assam
21. Name the
inaugurated broad gauge section in Assam by Union Railways Minister Suresh
Prabhu.
– Lumding–Silchar
22. Name the recently
launched navigational satellite launched by ISRO from Satish Dhawan Space Center, Sriharikota.
– IRNSS–1D
23. IRNSS–1D which
was launched recently is a ____________.
– Regional Navigational
Satellite of India
24. IRNSS–1D was
recently launched by ISRO. What does IRNSS stands for?
– Indian Regional Navigational Satellite System
25. IRNSS–1D is the
____ satellite of Indian Regional Navigational Satellite System.
– 4th
26. Name the first
Indian woman officer to die in the line of duty.
– Lieutenant Kiran Shekhawat
27. What is India's
rank in Open Government Index 2015 by World Justice Project (WJP)?
– 37
28. What is PM
Narendra Modi's rank in World's 50 Greatest Leaders Fortune Magazine?
– 5th
29. Name the Nobel
prize winning activist who was ranked 28th in World's 50 Greatest Leaders
Fortune Magazine.
– Kailash Satyarthi
30. Name the
Bollywood actor was the chief guest at 'India by the Nile' Festival in Egypt.
– Amitabh Bachchan
31. Who received CNN–IBN Indian of The Year
2014 award?
– Narendra Modi
32. Who received CNN–IBN
Indian of the Year 2014: Lifetime Achievement award?
– The Indian Space Research Organization (ISRO)
33. Who has been
appointed as the new spokesperson of the Ministry of External Affairs?
– Vikas Swarup
34. National Rural
Drinking Water and Sanitation Awareness Week was held between _________.
– 16th to 22nd March
35. What was India's
rank in UN trade body UNCTAD for assessing the readiness of countries for electronic commerce Index?
– 83rd


Also Read: Expected Question – Indian Current Affairs – Set 1




Regards
Team ExamPundit
Sponsored

(adsbygoogle = window.adsbygoogle || []).push({});
Books For 2015 Banking/Insurance Exams